Lee Morgan EngTech MIGEM
Published: 31/10/2019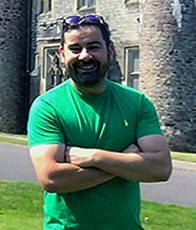 Education and qualifications:
City & Guilds Level 4; Leading Internal Quality Assurance
City & Guilds Level 3; Training, Assessment and Quality Assurance (TAQA), Education and Training (ET), Portable Appliance Testing (PAT), Main Equipotential Bond (MEB) and Safe Isolation
National Certificate of Further Education (NCFE) Level 2, Lean Management, Equality and Diversity and Understanding Specific Learning Difficulties (SpLD)
Multipoint Distribution Service (MDS) 3 Phase
Council for Awards in Care, Health and Education (CACHE) Level 2, Safeguarding, Prevent and Online Safety
Job title:
Senior Trainer and Assessor Apprenticeships
Employer:
Develop Training Limited
What inspired you to become an engineer or pointed you towards an engineering career?
I entered the army aged 16. With apprenticeship funding being withdrawn, the army was the only real route open to me to pursue my interest in engineering at that time.
Please describe your role or position within your workplace.
My position as Senior Trainer and Assessor is quite unique and also ties in with my responsibilities as Centre Manager and Safeguarding and Prevent point of contact. I am the quality lead for educational courses including the Accredited Certification Scheme (ACS) Gas Utilisation, Mechanical and Electrical Engineering, the new Maintenance and Operations Engineering Technician (MOET) Apprenticeships, Gas Networks Apprenticeship for emergency engineers, Air Conditioning Systems, Smart Metering and am authorised to carry out work by my employer, which is Meter Operation Code of Practice Agreement® (MOCOPA®) certified. I also teach functional skills, including Information and Communications Technology (ICT), English and Maths, as well as my role as an internal quality assurer and external assurer on ACS.
Can you describe a typical working day?
A typical working day could be teaching and assessing a group of apprentices or verifying a course for quality.
Are there any particular challenges or unusual aspects to your role?
The Prevent duty and my role as Safeguarding point of contact can take me out of my usual day-to-day role, presenting a unique insight to the challenges we face as a society. It's challenging but also satisfying to apply skills developed through engineering to give back to those in difficult circumstances - such as organisational skills, problem diagnosis, problem solving and the ability to provide clarity and calm in stressful situations, be they personal or professional.
What do you find most enjoyable about your job?
The most enjoyable aspect of my job is the opportunity to meet and help young, aspiring engineers or those who are new to the industry; those who we have a chance to positively influence for the future.
Is there a great professional achievement or high-profile accomplishment that you would like to tell us about?
I had never thought I'd be involved in the capacity I am now, working in education. It has been thoroughly enjoyable to help shape the next generation of engineers, so for me this is an ongoing accomplishment.
What contributed to your decision to become professionally registered?
It was always an ambition of mine to achieve the recognition of professional registration, but I never had the time or was in the right circumstances to do so. My employer backed my decision, supported me and importantly, gave me the time to achieve this.
In what ways has registration benefitted your career?
Since being registered, I have met many people involved with engineering and drawn on their experiences through networking events. I have taken these ideas back to my organisation to make our educational offerings better for the people we interact with.
How does your employer benefit from your professional registration?
My employer has a motivated member of staff, who having achieved an ambition can seek out other points of view within industry forums and networking events to take back into education, helping to shape the next generation of engineers.
Is there any advice you would pass on to someone considering professional registration?
Professional registration is a great asset both to you personally and to those who employ you. It allows you to experience great events and networking opportunities that you may not have known about, or may otherwise have been unavailable.
Where do you see yourself in your career in five years' time or what are your future ambitions?
My future ambitions are to remain in the educational environment continuing in quality management and helping others to enter the industry and build a great career. I also have a keen interest in SpLD and have recently completed certificates in Lean Management, Equality and Diversity and SpLD. I'd like to open the doors to those with SpLD in engineering, as they often become excellent practical engineers once they overcome stigma or social stereotyping.
Do you participate in any other career-related activities, such as mentoring, volunteering or membership of other engineering groups?
I am a member of the Institution of Gas Engineers & Managers (IGEM) South West branch. I also volunteer helping struggling rugby teams and have, in the past, raised money for military charities, as they are close to my heart.
Outside work, is there any activity you enjoy doing in your spare time that relates to engineering?
I'm an avid history lover. I spend time researching historical engineering feats such as those achieved by Brunel and was lucky enough that the recent IGEM South West Annual General Meeting (AGM) was at the Steamship (SS) Great Britain, overlooked by the Clifton Suspension Bridge. Additionally I'm an avid sports fan, having previously played rugby and boxed.