Joshua Eades EngTech MIGEM
Published: 15/05/2019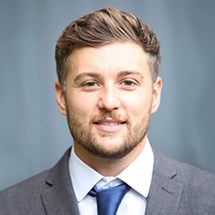 Education and qualifications:
Working on BEng (Honours) Engineering top-up degree (part-time)
Foundation Degree – Mechanical Engineering (Distinction)
Job title:
Project Engineer
Employer:
National Grid, Pipelines Maintenance Centre
What inspired you to become an engineer or pointed you towards an engineering career?
I've always been a hands-on 'do-er' with a natural interest in understanding how things work. This led to both personal and academic activities, such as working on bicycles, completing DIY and pursuing STEM (Science, Technology, Engineering and Mathematics) subjects at school. It's important to note that not all of these subjects came naturally, despite the interest!

The real inspiration in this story came from a teacher that had a great passion for engineering and technology subjects. I was in the first year-group in England to carry out an Engineering GCSE, followed by the roll out of an Engineering A-Level. This teacher was tasked to select several students from the year group who had shown high levels of interest within the existing Design and Technology subject.
After carrying out the Engineering A-Level I soon realised that this was an interesting and varied subject that had the ability to keep me stimulated. I then began to look for engineering apprenticeships to use what I had learned in a practical, working environment.
Please describe your role or position within your workplace.
My role as a Project Engineer involves a range of activities. As with many positions there are elements of administrative, HR and general management duties to carry out. However, the main element of my position is to lead a highly skilled team of Mechanical Technicians and Project Supervisors, to develop and provide specialist pipeline intervention solutions to the oil and gas industry throughout the UK and Ireland. As part of this role, I also operate and maintain a UK-wide 24/7 emergency response and repair service to several large commercial gas consumers.
Can you describe a typical working day?
It's very hard to describe a typical day, due to the variety of the work and the broad range of services that we provide. A day may range from working with third parties developing industry-leading innovative solutions to provide better value operations for customers, setting to work multi-discipline teams on high profile asset health work, surveying sites, pricing and scoping out new work, producing risk assessments and method statements for operations, through to mobilising teams across the UK on emergency operations.
Are there any particular challenges or unusual aspects to your role?
I would say that the main challenge of this role is due to the geographical requirements of the work. It wouldn't be unusual to receive a call requesting a site visit in Scotland, and at the same time receive an email detailing the scope for a project required in South Wales. I often have to assess and prioritise workload, timings and resources involving many variables. This often means that my teams are working across the country, which creates additional challenges from a leadership perspective.
What do you find most enjoyable about your job?
The variety! Since starting a career in engineering I have yet to feel bored, uninterested or unstimulated. I enjoy new work, meeting new people and the variety of challenges that you must adapt to and overcome. It's great to be embedded within an industry that is constantly adapting, enhancing and moving forward to ensure we meet the requirements of tomorrow's world.
Is there a great professional achievement or high-profile accomplishment that you would like to tell us about?
I achieved Distinction for my Mechanical Engineering Foundation Degree and was the 2018 IGEM Young Person's Paper Competition (YPPC) Midlands Winner.
What contributed to your decision to become professionally registered?
My decision to become professionally registered was based on my career goals and desire for future progression; I wanted to achieve awareness of the wider industry, external knowledge, further learning and the opportunity to share knowledge and best practice with other companies.
In what ways has registration benefitted your career?
I have gained greater business and industry knowledge plus made new contacts through networking.
How does your employer benefit from your professional registration?
My employer benefits from professional registration by having employees that are recognised for their knowledge and experience, by achieving and maintaining standards set by professional engineers. By being involved within the professional body, I am encouraged to reflect on my past experiences, and draw from my peers to become a better engineer and leader within my field, ultimately providing a better service for my company.
Is there any advice you would pass on to someone considering professional registration?
Get involved and be an active member of your institution. Make the most of the experience and knowledge available, then remember to help and mentor others when you can.
Where do you see yourself in your career in five years' time or what are your future ambitions?
In an ever-adapting environment, I believe that it's beneficial to keep your options open. I have multiple routes in mind that will build and grow my abilities and stretch me at every step.
I will continue to be an active member of my professional body, while continuing with my professional and academic journey and keeping my aim focussed on a senior leadership role.
Do you participate in any other career-related activities, such as mentoring, volunteering or membership of other engineering groups?
I am a mentor for several of National Grid's Engineering Trainee Programmes and Apprenticeship Schemes.
Outside work, is there any activity you enjoy doing in your spare time that relates to engineering?
I'm a keen DIY'er, and currently renovating our third property. While not directly linked to engineering, the skills and experience I have gained from being within the industry have enabled me to cost, plan, and carry out work that I would have never have tried and accomplished before.