Christopher Young EngTech GIHEEM
Published: 16/10/2019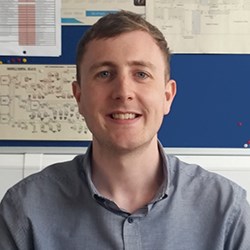 Education and qualifications:
BEng (Hons) Building Services Engineering
Job title:
Estates Officer (Mechanical Engineering)
Employer:
NHS Tayside
What inspired you to become an engineer or pointed you towards an engineering career?
I started my career as an apprentice plumber at Ninewells Hospital in Dundee before earning a promotion to Trainee Estates Officer (Mechanical Engineering). Since completing my training I now work as an Estates Officer. The NHS Tayside Property Department have encouraged and supported me throughout my training and continue to do so as my career progresses. My colleagues are an endless source of inspiration and motivate me to achieve my career goals on a daily basis.
Can you describe a typical working day?
My work varies from day-to-day but primarily my role is to ensure the effective and efficient operation of healthcare engineering systems and to ensure the compliance of these systems with regards to the NHS-specific guidance, the Scottish Health Technical Memoranda (SHTMs), legislation and regulations. I work with the strategic mechanical engineering team, ensuring critical building services are continuously available for patient care applications. These services include medical gases, critical ventilation, medium and low temperature hot water, domestic water, chilled water, steam and elevator systems.
Are there any particular challenges or unusual aspects to your role?
Dealing with an aging engineering infrastructure can be challenging, but it also provides an opportunity to assess the feasibility of utilising new technologies which can enhance the performance of existing systems and enable them to meet the requirements of modern standards.
What do you find most enjoyable about your job?
The sense of satisfaction when a successful outcome is achieved for the benefit of services providing patient care.
Is there a great professional achievement or high-profile accomplishment that you would like to tell us about?
After completing my second year studying for a BEng (Hons) Building Services Engineering degree, I received the accolade of 'Student of the Year' from the Building Services Engineering programme. I was extremely proud of this achievement and received a certificate along with a cash prize at the prize giving ceremony. On completion of my degree I was awarded a first-class Honours. I have successfully completed my training and I'm proud to be working as an Estates Officer in the NHS.
What contributed to your decision to become professionally registered?
I became professionally registered to provide evidence of my current engineering knowledge and improve my career prospects while demonstrating my professional engineering commitment. I believe professional registration demonstrates a professional attitude, which both clients and my employer value.
In what ways has registration benefitted your career?
It helped me gain confidence in my abilities while working as a trainee engineer and provided learning opportunities which have broadened my engineering knowledge. Registration earns me respect from other professional engineers, who acknowledge the level of competence associated with Engineering Council registration.
How does your employer benefit from your professional registration?
It gives my employer confidence that I am performing to industry standards and have up-to-date knowledge regarding my field of engineering. The commitment to Continuing Professional Development (CPD) made through registration ensures my engineering skills are constantly updated in pace with the dynamic and progressive engineering industry.
Is there any advice you would pass on to someone considering professional registration?
I would advise any engineer to become professionally registered in order to inspire client and employer confidence and to help progress their career. Becoming professionally registered is a statement of intent which illustrates a desire to excel in your field of engineering.
Where do you see you in your career in five years' time or what are your future ambitions?
In five years' time I hope to become one of the senior mechanical engineers in NHS Tayside.
Do you participate in any other career-related activities, such as mentoring, volunteering or membership of other engineering groups?
I am a member of the Institute of Healthcare Engineering and Estate Management (IHEEM) and attend technical seminars and institute meetings where possible. I actively encourage the development of apprentices, work experience students and peers who seek to undertake a career in engineering or broaden their existing engineering knowledge.