Bradley Unwin EngTech AMIHEEM MIDSc
Published: 02/05/2019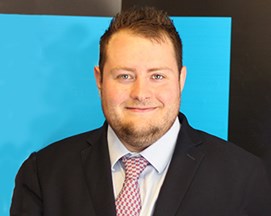 Education and qualifications:
ECITB Level 3 Diploma
BTEC Level 3 National Certificate in Electrical and Electronic Engineering
Job title:
Senior Business Development Manager
Employer:
Lubron UK Ltd
What inspired you to become an engineer or pointed you towards an engineering career?
I'd always been interested in the mechanical and electrical aspects of cars, so after school I did a BTEC Level 3 National Certificate in Electrical and Electronic Engineering. My first job was as a home-based Field Service Technician. I serviced and maintained water analysis instrumentation across the country and assessed faults with motors, valves, printed circuit boards (PCBs), power supplies and ion selective and colorimeter sensors. I then moved into a similar job servicing water treatment equipment and found that this was an industry in which I wanted to make a career.
Can you describe a typical working day?
I don't really have a typical day. Some days I'll be out visiting customers and helping to solve their problems, on others I'll be in the office helping to design water treatment systems and writing proposals. I also spend a good deal of my time planning marketing strategy. I spent four years as an Area Sales Manager with my previous company, so I have a pretty extensive knowledge of the market. In the UK, we are a small but rapidly growing company and developing new business in the healthcare sector is my top priority.

Are there any particular challenges or unusual aspects to your role?
Water treatment in healthcare is a highly regulated, specialist area, so it presents a number of technical and commercial challenges. As a result, I have to demonstrate that Lubron is able to meet and exceed those challenges.
What do you find most enjoyable about your job?
Early in my career as a service technician, I found I got a lot of job satisfaction by organising my own diary and liaising effectively and regularly with customers. I enjoy meeting new people and, after eight years in water treatment, I'm in a good position to find the best fit technical solution. I guess what is most enjoyable is seeing the customer happy with the solution that I've provided.
Is there a great professional achievement or high profile accomplishment that you would like to tell us about?
For me, personally, it would be the move from being a service technician into sales and marketing. My "hands on" experience in the field means that I understand the technical aspects of plant and that helps me enormously in my sales role.

What contributed to your decision to become professionally registered?
Registration with the Engineering Council recognises my knowledge and capability and provides me with credibility among my customers, my colleagues and my peers.
In what ways has registration benefitted your career?
It means that I'm seen as a professional rather than "just a salesman", and my advice is taken seriously.
How does your employer benefit from your professional registration?
Again it's about credibility. We want our customers to see us as a team of professionals who take responsibility. So, the more professionally registered engineers we have, the more confidence our customers have in us.

Is there any advice you would pass on to someone considering professional registration?
That's simple: just do it!

Where do you see yourself in your career in five years' time or what are your future ambitions?
My professional goal over the next five years is to gain a deeper technical knowledge through Continuing Professional Development (CPD) and to progress to IEng. After that I'd like to continue that progression and, eventually, achieve CEng.

Do you participate in any other career-related activities, such as mentoring, volunteering or membership of other engineering groups?
At this moment, building a new market means that the day job is pretty much all-absorbing. But in a year or two, when the pressure is less, I'd like to volunteer to help spread the word about engineering into local schools and encourage kids into the profession. The next generation of engineers is going to be vital to the UK's growth outside the European Union (EU).

Outside of work, is there any activity you enjoy doing in your spare time that relates to engineering?
What spare time I have is mostly spent with my off-roading Jeep.