Bethany Holroyd EngTech MICE
Published: 13/01/2021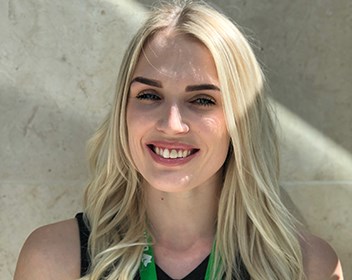 Education and qualifications:
Level 6 National Compliance and Risk Qualifications (NCRQ) Applied Health and Safety (HSD1)
Level 3 Award NCRQ Safety for Managers 
Level 5 Diploma in Construction Management (Sustainability)
Level 4 HNC Diploma in Construction and the Built Environment (Civil Engineering)
Job title: UK Health and Safety Advisor
Employer: WSP
What inspired you to become an engineer or pointed you towards an engineering career?
At high school I was trying to decide what I wanted to do. My then boyfriend, now husband, was studying a BTEC Level 3 Diploma in Civil Engineering when we met, and it sounded great! A mixture of maths, science and engineering as a vocational course, instead of A-levels, appealed to me. I applied for a place at Leeds College of Building (LCB) and as soon as I started, I knew I was on the right path. All the lecturers were fantastic, and the lessons were a mixture of practical and academic work that prepared us well for working in industry.
Please describe your role or position within your workplace.
After 10 years working in civil engineering on a large range of projects all over the country, I made the decision last January to transfer my skills to a new career in health and safety. Because of my engineering background it enabled me to make the leap across to health and safety easily and I had loads of background knowledge in my field. I am a UK Health and Safety Advisor for Transport and Infrastructure and because of my background, which is mostly highways and structures, I'm well placed to offer competent safety advice. My role involves providing corporate Health and Safety advice and support to the Transport and Infrastructure business at WSP.
Can you describe a typical working day?
My role differs daily, but the main elements I undertake are:
▪ Undertaking site visits/audits and maintaining relationships with various parts of our business.
▪ Asbestos and safety on site – subject matter expert support
▪ Conducting investigations into health and safety incidents
▪ Driving health and safety culture and safety management system compliance.
▪ Providing general support, bid support, project specific support, client advice.
▪ Industry best practice standards and implementation of solutions as appropriate.
▪ Developing and maintaining health and safety policy and arrangements, mandatory controls, guidance and tools for projects
▪ Management and maintenance of health and safety documentation.
Are there any particular challenges or unusual aspects to your role?
As I'm sure many of you are already aware, health and safety can often be a very dry subject, so getting a point across can sometimes be difficult. It's also quite difficult when you're investigating incidents of a sensitive nature, or you're dealing with someone who possibly caused the incident to happen. Having those conversations isn't always the easiest!
What do you find most enjoyable about your job?
I love my new role, and I've spent the last year getting to grips with a new industry. At the end of last year, I completed the first course that counts towards my diploma so that I would be able to become Chartered with IOSH.
Is there a great professional achievement or high-profile accomplishment that you would like to tell us about?
I feel very fortunate to have won a number of awards during my time in industry including a scholarship with the Institution of Civil Engineers. My proudest achievement though, is being named as one of the Women's Engineering Society (WES) 2019 Top 50 Women in Engineering: Current and Former Apprentices (WE50).
What contributed to your decision to become professionally registered?
When I secured my apprenticeship, I was lucky enough to be at the forefront of the big push for technicians back in 2011. I met the past President of the Institution of Civil Engineers (ICE), Jean Venables, and she encouraged me to pursue registration as an Engineering Technician (EngTech). I'd had a lot of support from my peers at work too, so I knew it was the right thing to do.
In what ways has registration benefitted your career?
Having professional membership allows me to give competent advice, and shows a commitment to what I do.
How does your employer benefit from your professional registration?
I believe professional registration shows a commitment to your job, and obviously for employers this means that their staff have been tested on the skills, knowledge and experience they have, which is an important part of health and safety.
Is there any advice you would pass on to someone considering professional registration?
Becoming registered as an EngTech with the Engineering Council is a fantastic milestone to achieve in your career and shows the industry and clients that you are competent at your job.
Where do you see yourself in your career in five years' time or what are your future ambitions?
I would like to become Chartered with the Institution of Occupational Safety and Health (IOSH) alongside my EngTech registration with ICE. I hope to be in a business partner role with my company by this time too.
Outside work, is there any activity you enjoy doing in your spare time that relates to engineering? For example, do you participate in mentoring, volunteering or membership of other engineering groups?
Since starting in industry 11 years ago I have always volunteered my time to talk about the benefits of apprenticeship and Science, Technology, Engineering and Maths (STEM) careers to the next generation. I believe that those of us who are qualified have a duty to ensure that the next generation are made aware of the brilliant opportunities within the engineering and construction sectors.