Tariq Umar MSc, CEng IntPE (UK) MICE
Published: 20/12/2017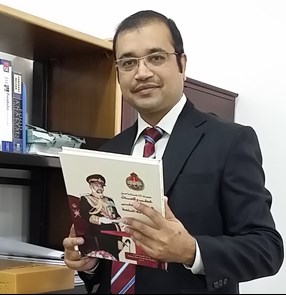 Education and qualifications: MSc, PhD scholar
Which Institution are you a member of? Institution of Civil Engineers (ICE)
Current job title: Program Leader (Civil Engineering) in Oman (full-time) and part-time PhD student at London South Bank University, UK
Company: A'Sharqiyah University, Oman
Length in current job: 5 years
Approximately how many staff are employed by your company?  200
Where are you based? Oman 
Please describe your current role
I am leader of my organisation's civil engineering programme. This includes the direct reporting of five laboratory engineers in transportation engineering, materials and structures, geology and surveying laboratories. Monitoring health and safety in the laboratories and workplace is another key responsibility.
Research is also an integral component of the Programme Leader role. This involves conducting research in areas of interest, pursuing publication in international journals and presenting at international conferences. Writing research proposals, seeking funding from internal and external research funding agencies and collaborating on research with other organisations and researchers are some of the main activities of my current role in Oman. 
What inspired you to become an engineer?
Engineers have a key role in facilitating the comfort of life of mankind through their engineering projects and innovation. I developed a keen interest in engineering, especially civil engineering, when I was in secondary school. I was always inspired by engineers constructing roads and buildings and used to make models of buildings and houses out of empty cartons. At that time I began to seriously consider pursuing further study in civil engineering. 
Please provide a brief outline of your career so far
I started my career in 2003 as a Junior Engineer in a local municipality in Pakistan having completed a Higher Diploma in Civil Engineering. During this job I was able to complete a Bachelor (Hons) degree in Civil Engineering in 2008. I then moved to London where I completed a Masters in Civil Engineering at the University of East London in 2009. At this time I also worked as a Research Assistant in the Soil Structure Interaction Group at the university, which allowed me to polish my research skills. I then returned to Pakistan and joined Cantonment Board Walton (a local municipal organisation) as Senior Engineer. Two years later I moved to the Sultanate of Oman and took on my current role as Programme Leader at A'Sharqiyah University. Meanwhile, in 2015 I enrolled as a part-time PhD student at London South Bank University.
Have you worked on any unusual or high profile projects?
My current PhD research is an unusual project. I am trying to use the safety climate concept (which looks at how employees perceive the importance of safe conduct in their place of work) to improve the safety performance in construction organisations in Oman. Construction is a major and complex industry in Oman. It contributes 10% of total GDP and 92% of the manpower comes from abroad. Accidents in construction in Oman cost around 7.5% of the total construction project values. My research project aims to develop a tool for construction organisations to help them develop strategies to improve the safety performance of their projects.
What spurred you to work towards becoming registered as a Chartered Engineer (CEng)?
After graduating I realised that being a Graduate Engineer and being a Chartered Engineer (CEng) are significantly different from each other and believe that to call yourself an engineer you should be recognised by an international professional engineering body. This forced me to research which organisation and which professional title I should pursue. I decided that the CEng title would be most appropriate for me because I had graduated from a UK university and the title is recognised worldwide.
I became a Graduate Member of the Institution of Civil Engineers (ICE) in 2010 and the process towards CEng registration was very straightforward. I was able to complete my Initial Professional Development in late 2014 and had my Professional Review Interview in late 2016.
The process took seven years after completing my Masters degree. I used both my industry and research experience to satisfy the requirements of registration. For the assessment it takes time to make sure you have satisfied all the requirements for CEng registration. I mapped out my experience against each area to demonstrate that I met the required level of competence and commitment. 
How has registration as a CEng benefitted your career?
CEng registration is a great achievement in my career. It recognises my academic qualifications and my experience and has allowed me to add another professional qualification to my CV, making me more desirable to employers.
What advice would you give someone considering professional registration as a CEng?
My advice to all professionals working in the engineering industry is to pursue their CEng registration through the most relevant professional engineering institution for them. There are many different pathways available to satisfy the academic requirement if your degree is not accredited. Engineers with extensive experience in the industry can use this to satisfy the academic requirement if they don't have a degree. Overseas experience is recognised as there is no requirement for CEng registration to have experience of working in the UK. There are many routes available and your institution will also support you.
How does your employer benefit from you being a CEng?
In the engineering industry professional registration is very important, so becoming a CEng benefits my employer as well. By having professionally registered staff, my employer can demonstrate to industry partners that its staff are committed to keeping their knowledge, understanding and skills up to date.
What are your future career goals?
My future goals include firstly to complete my PhD within the next two years and to pursue Fellowship with ICE. I aim to gain Fellowship in the next seven years or before I reach forty.