Rachel Fogg MA MEng (Cantab) CEng MCIHT MSoRSA
Published: 07/08/2019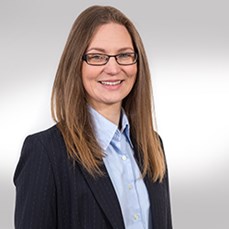 Education and qualifications:
Masters in Civil Engineering at Cambridge University
Job title:
North East Business Unit Director
Employer:
SYSTRA
What inspired you to become an engineer or pointed you towards an engineering career?
I always excelled at mathematics and physics at school but, being a people-oriented person, I wanted to pursue a career in which teamwork and communication played a large part. A little research led me to the Royal Academy of Engineering and, thinking it would be a good idea to find out a bit more, I signed up for one of their outward-bound leadership courses incorporating an introduction to engineering skills and principles. Three days later, having hiked, abseiled and rafted (swum!) across Dartmoor during the remnants of Hurricane Gordon, I was hooked!
Please describe your role or position within your workplace.
As the SYSTRA director for the North East, I am responsible for the Leeds and Newcastle offices. I am accountable for financial performance, ensure technical accuracy and quality, and enable staff development and recruitment. I am project director for the Highways England spatial planning framework, leading multi-disciplinary teams in the design and assessment of major highway improvement schemes. I also lead the Road Safety Audit Team, which provides independent reviews of highway improvement schemes and suggests how to make them safer.
Can you describe a typical working day?
A large portion of my days are spent considering work we have coming up and what direction we are going as a team, so that we have everything in place to ensure success. This involves mobilising and motivating resources, identifying training needs and undertaking recruitment. I liaise regularly with other senior leaders and maintain a close eye on the financial performance of projects. I often attend client meetings and most days I assist project managers in overcoming any issues with their projects. I am also usually planning the next team social event, as I think building relationships and having fun are just as important as working hard and making money.
Are there any particular challenges or unusual aspects to your role?
Working part-time, my days are always full on. I don't like to take work home with me so, when I'm at work, I need to be extremely focused and productive. Being organised is critical, not just for me but for my whole team. Tools like conference calling and screen sharing are hugely valuable, but accounting for and adapting to numerous different working patterns is a real challenge, particularly as most of our project work is team-based.
What do you find most enjoyable about your job?
I take great satisfaction from a job well done, particularly if we have had to overcome challenges along the way. Working with my team to solve problems and deliver a great product to our clients is tremendously rewarding; I also enjoy helping others develop and achieve their potential. As well as delivering technical training, I spend time with staff on an individual basis providing guidance and coaching on personal skills and development. I take enormous pride in seeing a nervous graduate build up the confidence to present to a client, or an introverted technical expert take on responsibility for managing others and liaising with clients.
Is there a great professional achievement or high-profile accomplishment that you would like to tell us about?
One of my colleagues recently nominated me for the Chartered Institution of Highways and Transportation (CIHT) Inspirational Leadership award. Being recognised in this way was a huge personal achievement for me.
What contributed to your decision to become professionally registered?
I have always believed in the importance of maintaining standards within the industry. Becoming professionally registered, and encouraging others to do the same, helps develop the next generation of engineers and ensures that the profession continues to improve.
In what ways has registration benefitted your career?
Registration has helped me understand the factors that affect our decision making and the wider implications of the work we do as engineers. It has helped me progress within my organisation and offers access to a greater variety of opportunities outside my organisation. It provides evidence of my competence and assurance for roles such as expert witness.
How does your employer benefit from your professional registration?
SYSTRA benefits from my professional registration as, through my knowledge, I can help ensure compliance and improvements in matters such as safety and security and, through my experience, I can help others achieve professional registration. SYSTRA also benefits as professional registration is attractive to clients, helping us to win work and secure frameworks.
Is there any advice you would pass on to someone considering professional registration?
Life is busy. It only gets busier. If you are considering professional registration, my advice would be to crack on! Start recording your experience and evidence as soon as you can and proactively seek opportunities to fill any gaps you identify as you progress.
Where do you see yourself in your career in five years' time or what are your future ambitions?
My focus for the future is to engage and inspire the next generation to develop their skills and challenge themselves to be even better engineers. As a senior leader within the industry, my ambition is to raise the profile of engineering and to influence key decision makers. Enabling sharing of best practice and ensuring prioritisation of time and funding for staff development are critical to delivering great projects and achieving excellence.
Do you participate in any other career-related activities, such as mentoring, volunteering or membership of other engineering groups?
I am a mentor for junior staff at SYSTRA and offer practice interviews for staff applying for professional registration. I am also an EngTech, IEng and CEng reviewer for CIHT and can safely say that the practice interview is always worse than the actual!
Outside work, is there any activity you enjoy doing in your spare time that relates to engineering?
Part of the feedback I received when I attained professional registration was that I would benefit from a greater involvement in my local community. This encouraged me to seek out new opportunities and I have been involved in my local scout group ever since. I am pleased to say my raft building skills have improved dramatically!