Ozak Esu PhD BEng (Hons) CEng MIET
Published: 08/10/2021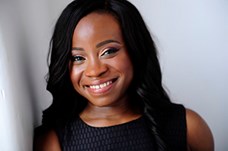 Education and qualifications:
PhD Electronic and Electrical Engineering, Loughborough University
BEng (Hons) Electronic and Electrical Engineering, Loughborough University
Job title:
Technical Project Manager R&D
Employer:
Hilti Group
What inspired you to become an engineer or pointed you towards an engineering career?
I was good at Mathematics, Further Mathematics and Physics at school and I was told by my parents and tutors that these are the subject combinations required to pursue a career in engineering. Shortages in energy and power supply which I experienced growing up in Nigeria inspired me to specialise in electronic and electrical engineering so that I could contribute towards fixing the problem.
Please describe your role or position within your workplace.
Hilti employs 30,000 people around the world, in more than 120 countries, who contribute to making work on construction sites simpler, faster and safer. With products, system solutions, software and services that provide clear added value, we create enthusiastic customers and build a better future. From product development to manufacturing, logistics, sales and services, we cover the entire value-added chain. Within this multinational, high performance and collaborative work environment, I lead the research and development of innovations in fastening and application technology at Hilti's Corporate Research and Technology Centre in Schaan, Principality of Liechtenstein.
Can you describe a typical working day?
I have a unique and picturesque cross border commute from Switzerland where I live, to Liechtenstein, where I work. My commute mode depends on the weather forecast. On sunny days, it's a 20-minute cycle to work, and on rainy days, it's a 12-minute bus journey, or 5-minute train ride to the office.
I start at 8am with a café latte and a croissant, planning my day and responding to emails. I have multiple ongoing projects and I often have progress update meetings and presentations from 08:30am with colleagues, project collaborators and stakeholders, depending on time zones. Most of my day is spent researching or ideating with colleagues on the latest innovations in technology, exploring opportunities to bring these innovations into our products and services, developing and testing prototypes in our state-of-the-art laboratories, and occasionally filing or following up on patent applications. I pause for my hour-long lunch break at noon, and throughout the day I have a couple of tea/coffee/ice-cream breaks to recharge. I typically end my day at 5.30pm with a rough schedule for my next day.
Are there any particular challenges or unusual aspects to your role?
Predicting the future and keeping pace with technological advancements is a challenging and thrilling aspect of my role. Too many exciting ideas, paths, options and opportunities with the freedom to explore all of them – it can be overwhelming for me, especially when it's decision time and I have to commit to a few ideas from the extensive list. It's a privileged position to be in, having this much freedom to innovate and explore. To cope, I let the industry challenge we've researched, the science, my colleagues, our customers and their needs shape the shortlisting process and guide me through it. .
What do you find most enjoyable about your job?
The most enjoyable attributes of my job are that it is fun, collaborative, multifaceted and explorative research, at the forefront of transforming the future of the construction and built environment industry. I work in collaboration with multidisciplinary teams and stakeholders in industry and academia. I am continuously learning, developing and adapting as I go along which is great!
Is there a great professional achievement or high-profile accomplishment that you would like to tell us about?
Thriving in a new country following my move from Nigeria to the UK at 17, graduating with First Class Honours in Electronic and Electrical Engineering, advancing straight to my PhD at 20 on a Loughborough University scholarship and achieving doctoral success at 25 while maintaining a full-time graduate engineering position in a different engineering discipline is my greatest professional achievement. Being elected to the Institution of Engineering and Technology's (IET) Council and winning awards in recognition of my contributions to engineering including the IET's Mike Sargent Career Achievement Medal for Young Professionals and the IET Young Woman Engineer of the Year Award in 2017 are two of the high-profile accomplishments I am very proud of.
What contributed to your decision to become professionally registered?
I was inspired by my undergraduate tutor and academic mentor, Dr James Flint who is a Chartered Engineer (CEng) and Fellow of the IET, to pursue professional registration. The standout benefits that also contributed to my decision are the global recognition of the status (including in my home country, Nigeria) and potential international opportunities. Remuneration benefits and the prestige of being professionally recognised by my peers were also contributory factors in my decision.
In what ways has registration benefitted your career?
As with most professional achievements, it feels great to have accomplished this significant career milestone. I was awarded "Chartered Engineer of the Year 2020" by the Engineering Talent Awards for excelling in my career, achieving professional registration, supporting colleagues with their own professional registration ambitions, and for inspiring others to consider a career in engineering.
How does your employer benefit from your professional registration?
Registration demonstrates my competence and sound judgement to potential clients and project collaborators. Through my experience, I have supported colleagues to achieve professional registration.
Is there any advice you would pass on to someone considering professional registration?
Take it at your own pace. People have differing opinions on timescales. Take their opinions on board but ultimately, it is important that you dictate your pace, as the final decision on preparedness rests with you. Be proactive in recording experiences and gathering your evidence of professional competence. There are useful resources on the Engineering Council website to guide you through the process. Seek guidance from your peers, mentors, line managers and professional engineering institutions.
Where do you see yourself in your career in five years' time or what are your future ambitions?
In five years I see myself returning to work following a career break to start a family, and upskilling in a Master of Business Administration (MBA). Professionally, I aspire to have delivered innovative and patented superior products and solutions to our customers; broadened my technical expertise in The Internet of Things (IoTs) for wider applications in agriculture, energy storage and waste management; contributed to the development of colleagues and to have participated in collaborative research for sustainable international development projects.
Outside work, is there any activity you enjoy doing in your spare time that relates to engineering? For example, do you participate in mentoring, volunteering or membership of other engineering groups?
In my spare time, I create content for engineering engagement including presentations/talks, and educational demonstrator videos on topics in science and engineering. Most recently, I became a video host at Climate Now (https://climatenow.com/) a multimedia resource on the science and economics of climate change, covering the key scientific theories underpinning our understanding of how and why the climate is changing, clean energy technologies, important research, and policies relevant to the climate crisis and the energy transition.
I am passionate about advancing society through education and the practical application of sustainable engineering. In May 2019, I participated in STEM (Science, Technology, Engineering and Mathematics) Build Malawi, a volunteer Women's Engineering Expedition that involved fundraising, designing and building a new STEM Education centre for 124 students in Mangochi, Malawi in partnership with the local community. I aspire to undertake more challenging voluntary projects that promote engineering for international development.
I am an IET Volunteer, responsible for communicating my passion for and contributions to engineering to schoolchildren, teachers, parents, politicians, journalists and the general public, with a view to inform and inspire their engagement within the profession. I am an elected IET Council Member (2020 – 2023) tasked with tendering advice to the IET Board of Trustees and promoting a culture of continuous improvement.
I mentor young women studying at tertiary institutions across West Africa through The Visiola Foundation in Nigeria, to tackle the 'confidence gap' and retain the female talent within STEM. I am a member and volunteer of Engineers without Borders UK and the Association of Black and Minority Ethnic Engineers (AFBE-UK).
Do you identify as disabled, or as a member of a minority or under-represented group? Would you like to comment on what impact or influence you feel this has had upon your career?
I am an engineer who is black and a woman - both under-represented groups in engineering. I like to believe that I work hard because the perfectionist in me enjoys striving, developing and achieving; but I also think that some of my drive to excel is influenced by being a member of under-represented groups in engineering. Occasionally, throughout my career, I have felt some form of 'pressure to prove', from both external and internal contributory factors. Now, I recognise this, and I am cautious to avoid burn-out. I draw the line at "my best" and constantly remind myself that, although I am a member of these under-represented groups, it is not for me to be the "model minority". Being Ozak, the individual is enough!