Ozak Esu BEng (Hons) PhD CEng MIET
Published: 16/10/2019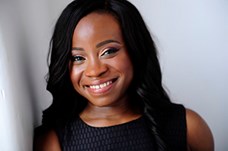 Education and qualifications:
BEng (Hons) Electronic and Electrical Engineering
PhD Electronic and Electrical Engineering
Job title:
Technical Lead – Smart Buildings

Employer:
Building Research Establishment (BRE)
What inspired you to become an engineer or pointed you towards an engineering career?
I was good at Mathematics, Further Mathematics and Physics at school and I was told by my parents and tutors that these are the subject combinations required to pursue a career in engineering. Shortages in energy and power supply which I experienced growing up in Nigeria inspired me to specialise in electronic and electrical engineering so that I could contribute towards fixing the problem.
Please describe your role or position within your workplace.
I lead the research at the BRE Centre for Smart Homes and Buildings to address common challenges faced in the adoption of Internet of Things (IoT) within the built environment, focusing on the impact technology can have on the design and operational performance of existing, future and modular buildings.
Can you describe a typical working day?
My working day starts at 8:45am. As a Centre, we have multiple ongoing projects and one of our largest is the Smart Buildings Project, part of the programme of work for the UK Government funded Construction Innovation Hub. The Hub is driving collaboration to change the way buildings are designed, manufactured, integrated and connected within the built environment. It promotes digital and manufacturing technologies to help build smarter, greener and more efficient buildings faster and cheaper than we currently do. I am therefore constantly updating my knowledge and awareness of research and industry outputs on smart building design, construction, performance, technology, networks and data analytics by reading published articles, guidance notes, academic journals, white papers and reports. I spend time reading all the relevant material and extracting the salient points that pertain to ongoing projects while managing the project team and resources.
Depending on my calendar, next I could be responding to emails, organising meetings or chairing meetings with our project collaborators and expert groups which include internal BRE departments and external partners (ie universities, industry and other research organisations). On the BRE estate, we have physical smart homes and buildings demonstrator projects which we use for experimenting and testing. Depending on the phase of the project, my time is spent either designing or supervising the installation of new smart technology systems or assessing and analysing measured data and deducing results for dissemination.
Within the day, I will have a couple of tea/coffee breaks as well as an hour lunch break. Actions are set for the following day and my day typically ends at 5pm.
Are there any particular challenges or unusual aspects to your role?
Predicting the future and keeping pace with technological advancements is a challenging and thrilling aspect of my role. There is also a lot of work being undertaken in silos by organisations within the smart buildings and construction industry, which needs to be aggregated to deliver transformation within the sector. Rallying these groups together can be a challenge too.
What do you find most enjoyable about your job?
The most enjoyable attributes of my job are that it is collaborative, multifaceted and at the forefront of transforming the future of the construction and built environment industry. The aim of my role within smart buildings is to inform industry best practice, technical guidance, standards and policies through extensive research and development. To achieve this, I work in collaboration with multidisciplinary teams and stakeholders in industry, academia and government. I am continuously learning and adapting as I go along which is great.
Is there a great professional achievement or high-profile accomplishment that you would like to tell us about?
Thriving in a new country following my move from Nigeria to the UK at 17, graduating with First Class Honours in Electronic and Electrical Engineering, advancing straight to my PhD at 20 on a Loughborough University scholarship and achieving doctoral success at 25 while maintaining a full-time graduate engineering position in a different engineering discipline is my greatest professional achievement. Being elected to the Institution of Engineering and Technology's (IET) Council and winning awards in recognition of my contributions to engineering including the IET Young Professional Achievement Mike Sargeant Award and the IET Young Woman Engineer of the Year Award in 2017 are two of my high-profile accomplishments I am very proud of.
What contributed to your decision to become professionally registered?
I was inspired by my undergraduate tutor and academic mentor, Dr James Flint who is a Chartered Engineer (CEng) and Fellow of the IET, to pursue professional registration. The standout benefits that made me decide to pursue professional registration are the global recognition of the status (including in my country Nigeria) and potential international opportunities. Renumeration benefits and the prestige of being professionally recognised by my peers were also contributory factors in my decision.
In what ways has registration benefitted your career?
I am yet to reap the full benefits of becoming professionally registered as I achieved CEng status in May 2019. As with most professional achievements, it feels great to have accomplished this significant career milestone.
How does your employer benefit from your professional registration?
Registration demonstrates my competence and sound judgement to potential clients and project collaborators. Through my experience, I am supporting employees within the organisation to achieve professional registration.
Is there any advice you would pass on to someone considering professional registration?
Take it at your own pace. People have differing opinions on timescales. Take their opinions on board but ultimately, it is important that you dictate your pace, as the final decision on preparedness rests with you. Be proactive in recording experiences and gathering your evidence of professional competence. There are useful resources on the Engineering Council website to guide you through the process. Seek guidance from your peers, mentors and line managers.
Where do you see yourself in your career in five years' time or what are your future ambitions?
In five years' time, I see myself returning to work following a career break to start a family. Given the current accelerated pace of technological advancements, I foresee myself upskilling. Professionally, I aspire to have contributed towards a published smart buildings industry standard, broadened my technical expertise in IoTs for wider applications in agriculture, energy storage and waste management, and to have obtained grants to conduct and participate in collaborative research for sustainable international development projects.
Do you participate in any other career-related activities, such as mentoring, volunteering or membership of other engineering groups?
I am an IET Volunteer, responsible for communicating my passion for and contributions to engineering to schoolchildren, teachers, parents, politicians, journalists and the general public, with a view to inform and inspire their engagement within the profession. I am an elected IET Council Member tasked with tendering advice to the IET Board of Trustees and promoting a culture of continuous improvement. I also serve as a Council Member on the QEPrize Ambassador Network, which brings together early career engineers from around the world who work to inspire the next generation; the Ambassador Network bridges the gap between them and winners of the Queen Elizabeth (QE) Prize.
I mentor young women studying at tertiary institutions across West Africa through The Visiola Foundation in Nigeria, to tackle the 'confidence gap' and retain the female talent within Science, Technology, Engineering and Mathematics (STEM). I am a member and volunteer of Engineers without Borders UK and the Association of Black and Minority Ethnic Engineers (AFBE-UK).
Outside work, is there any activity you enjoy doing in your spare time that relates to engineering?
In my spare time, I create content for engineering engagement including presentations/talks, educational demonstrator videos on topics in physics, scrapbooks on upcycling and crafts and word search puzzles. I am passionate about advancing society through education and the practical application of sustainable engineering. In May 2019, I participated in STEM Build Malawi, a volunteer Women's Engineering Expedition that involved fundraising, designing and building a new STEM Education centre for 124 students in Mangochi, Malawi in partnership with the local community. I aspire to undertake more challenging voluntary projects that promote engineering for international development.