Michael Clifford BEng (Hons) MSc CEng FIFireE CPEng MIPENZ FCABE
Published: 10/12/2018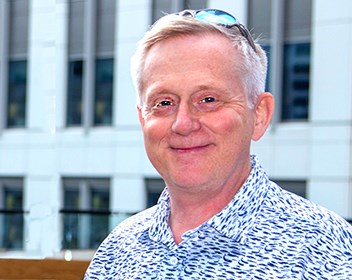 Education and qualifications:
MSc in Fire Safety Engineering
BEng (Hons) in Fire Engineering
Which institutions are you a member of? Institution of Fire Engineers (IFE), Engineering New Zealand (EngNZ), Chartered Association of Building Engineers (CABE)
Current job title: Senior Fire Engineer with CoveKinloch New Zealand Ltd
Approximately how many staff are employed by your company?
Between 30 and 40 people
Where are you based?
Auckland, New Zealand
Please describe your current role:
As the company's Senior Fire Engineer my responsibilities include heading the Fire Engineering and Design Team and being the Fire Engineering and Fire Design lead. As we're a multi-disciplinary company, I provide specialist fire advice to the different disciplines across the head office Auckland and three regional offices, Hamilton, Tauranga and Wellington.
My role includes providing current and new clients with fire engineering design reports for building consent purposes. This consists of Building Act and Regulatory compliance; specialist advice on areas such as passive fire protection systems; complex fire modelling; fire protection system specification; fire safety strategy and review; independent peer review; fire engineering cost benefit analysis and fire safety risk assessments, among other services.
Please provide a brief outline of your career so far:
I had a diverse career as a military fire-fighter in the Naval Air Command Fire Service (Royal Navy) spanning 24 years, in which I progressed to the equivalent level of an Assistant Divisional Officer. After retiring from the Royal Navy in 2003 I spent the next 13 years running my own consultancy practice, specialising in fire safety and engineering consultancy.
While in private practice I undertook the BEng (Hons) Fire Engineering undergraduate degree followed by the MSc postgraduate degree in Fire Safety Engineering at the University of Central Lancashire. Throughout my studies I was able to instantaneously use my new-found knowledge in my professional role.
In 2011 I began working towards professional registration as an Incorporated Engineer (IEng) then, after gaining more experience, I progressed to Chartered Engineer (CEng) in 2016. Running concurrently, I also completed the assessment process to become a Chartered Professional Engineer (CPEng) in New Zealand. I found all three processes robust and the outcomes meant a great deal to me due to the thorough assessment of my competency by a group of my peers, confirming that I am using my skills at the correct level as a practicing fire engineer. Additionally, this professional status allowed me to be recognised within the industry and highlighted my value to my employer and current and prospective clients.
Have you worked on any unusual or high-profile projects?
Over the years I have carried out fire safety works on a number of high-profile buildings including the Olympic Park and other temporary stadia for the London 2012 Olympic and Paralympic Games. This involved completing detailed fire risk assessments on the venues initially on plan to provide advice on design and other requirements and then once completed, fire risk assessments for game days. Other projects include high-rise buildings with complex features such as single-stair escape routes and large atriums. Additional projects I have worked on include industrial, commercial and residential projects for both the private and public sector
What attracted you to become registered as a CEng?
I recognised the value of professional registration and although already an Incorporated Engineer, my long-term goal was to become a Chartered Engineer. This allows me to demonstrate my expertise and commitment to the fire engineering profession. It also provides assurance to my peers and clients that I not only conduct myself in a professional and ethical manner, but also that I have been independently assessed as meeting an internationally recognised standard of competence.
How did you become registered as a CEng?
I submitted my application and was advised by IFE that my degrees met the academic requirements for registration as a CEng. All that was left for me to do was to demonstrate that I met the competences and commitments set out in the Engineering Council's standard, the UK Standard for Professional Engineering Competence (UK-SPEC).
The IFE's membership team provided advice and support by allocating me a mentor who was based nearby in Brisbane. He gave me advice on the style and level of detail required for my Professional Review Report. Additionally, the IFE team kept me informed throughout the process, which I found to be seamless.
How has professional registration as a CEng benefitted your career?
Having the letters CEng after my name demonstrates to colleagues, peers, clients and external organisations that I have undertaken an independent assessment of my competence and that I am committed to my profession.
What advice would you give someone considering professional registration as a CEng?
Discuss the benefits and process with colleagues who have been through it to gain a good understanding of what is required. If possible, link up with a mentor who will be a source of valuable information and support. Do complete your application form diligently, ensuring that you detail all relevant information about yourself so that it validates your capabilities.
What are your future goals?
To remain in the industry and provide a first-class service to my clients while maintaining my competence through Continuing Professional Development (CPD). Also, assisting my colleagues with their own development goals.
What is your employer's attitude towards registration?
The directors and managers at CoveKinloch are exceptionally supportive to any employee who wishes to progress their current competence levels. They are acutely aware of the value of professional registration.
How does your organisation benefit from you being professionally registered as a CEng?
Being professionally registered gives confidence to clients, both old and new, that I am competent to complete my role as a Senior Fire Engineer. In addition, it demonstrates that the company supports career development and professional recognition for its staff.