Matt Longley BEng CEng MIChemE
Published: 17/11/2020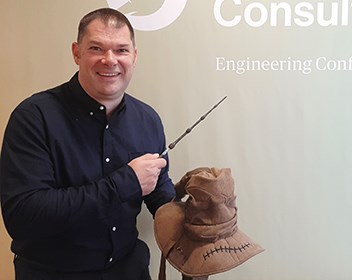 Education and qualifications:
BEng (Hons) Chemical Engineering with Minerals Engineering – University of Birmingham
Job title:
Consultant

Employer:
ChemEng EHS Ltd
What inspired you to become an engineer or pointed you towards an engineering career?
My Dad was an engineer and latterly a manager with British Steel and so I had early exposure to the world of engineering. At school I had a great Chemistry teacher who inspired several of us to follow that field. I have always enjoyed working out how to improve how things are done and so chemical engineering seemed to be the perfect fit. The subject teaches you to think laterally, which is a highly sought-after and transferable skill.
Please describe your role or position within your workplace.
I started my career at Monsanto, where I worked for a couple of years in production engineering as a project engineer on a water treatment chemicals plant in Newport and then in a technical sales role. It was later, securing a job as a procurement manager for Vp, an equipment hire specialist, when I got my first introduction to working in the entertainment sector. We were supplying production film crews with a specialist aluminium panel that's laid down to form a roadway and is commonly used to get cranes and equipment needed into fields, forests and other remote locations. Through this, and then joining ChemEng EHS, I've worked with some brilliant people, including on sets such as Warhorse, Harry Potter, Pirates of the Caribbean and The Dark Knight Rises.
As an engineering consultant at ChemEng EHS, the work is varied. I help companies from all sectors, but usually in the entertainment sector (including theatre, film, television and music) to solve problems and recommend improvements to their processes, be that a manufacturing process or a business process. I also help them to improve health and safety, especially mental health, in the workplace.
Can you describe a typical working day?
That's the great thing, there is no typical day! Generally, I will be working with a client, which at the moment means one of the theatres in central London or a film studio. Usually I will be discussing work processes with the client and how they want to improve them. I may then help them with a gap analysis to develop a plan for them to create a strategy for implementing improvements. I often do site visits and audits, and that can sometimes lead to delivery of a training session to improve mental health awareness or risk assessments.
Are there any unique challenges or unusual aspects to your role?
The entertainment sector is very dynamic, frequently with tight deadlines. At a theatre, the curtain has to go up at 7pm on the dot, and on a film shoot there are several hundred people geared up for a few days shooting, so there is a significant pressure to "get the show on". People's work patterns are not the standard nine to five, so finding time to be proactive with mental health at work is the most difficult aspect.
What do you find most enjoyable about your job?
The variety is great; there's never a dull moment and the sense of achievement is great when you realise that you have improved something for the client. For instance, on the Harry Potter and the Deathly Hallows shoot I managed to help the crew work out how to shoot the scene where Harry and Hagrid land a motorcycle in the pond at the Weasley's house. They were unable to get the motorcycle to run smoothly once it landed in the water after travelling down a rollercoaster track. We worked out that if we put aluminium panels, painted black, just under the water it would create a skimming effect on the surface upon landing, which was what the director wanted.
Mainly, I enjoy meeting different people - from the actors, to the brilliant craftspeople who build the sets and props and the other crew who make the films and shows work from behind the scenes.
Is there a great professional achievement or high-profile accomplishment that you would like to tell us about?
My favourite - and most stressful - project was to build a bridge at Wollaton Hall in Nottingham so that the film crew on The Dark Knight Rises could get a crane into the rear gardens. The grounds at the hall have tunnels underneath, which made the route for the crane a particular challenge.
Their other issue was that the crane they needed was too heavy to have all the wheels on the bridge at the same time. So we had to engineer a solution by packing out part of the ditch that we were crossing so that the bridge span was reduced. The shoot went ahead successfully and the bridge held firm!
What contributed to your decision to become professionally registered?
When I started my career at Monsanto, they were very supportive of engineers achieving professional registration and Chartered status. I wanted to gain recognition that I had applied the practical elements of my degree in a real-life environment. I felt that becoming a Chartered Engineer (CEng) would give me recognition with my peers, superiors and other engineers across both my industry and other industries.
In what ways has registration benefitted your career?
It has allowed me to demonstrate that I have transferable skills and enabled me to work in several sectors including chemical manufacturing, rail and entertainment. It demonstrates that you have achieved a recognised standard of competence and commitment.
How does your employer benefit from your professional registration?
My employer is able to win clients due to the fact that I am professionally registered. Being pre-dominantly an engineering consultancy, ChemEng EHS need to demonstrate that their consultants are competent, which registration shows.
Is there any advice you would pass on to someone considering professional registration?
Yes, it is really worth doing and will open up doors.
What are your future ambitions? Where do you see yourself in your career in five years' time?
I am passionate about helping companies improve their employees and contractors' mental health. Using my engineering background, I'm finding practical ways to help companies improve their productivity and safety through their people. I want companies to take positive action to help ensure that mental health is embedded into their management processes. I've started this in the film and TV industry and I'm also working with the rail sector.
Do you participate in any other career-related activities, such as mentoring, volunteering or membership of other engineering groups?
I've just started volunteering with the Institution of Chemical Engineers (IChemE) Midlands Member Group. I join other members to promote chemical engineering to schoolchildren at various events in the Midlands.
Outside work, is there any activity you enjoy doing in your spare time that relates to engineering?
I am a trustee of the Men's Health Forum charity who produce several Haynes manuals for men! They fund research into health improvements focusing on under-privileged boys, but also the general population. One of the focus areas is the mental health of engineers due to the fact that they often work in high-stress environments, such as nuclear and aviation, or with hazardous chemicals.
I also run a small non-profit company called 6ft From The Spotlight that helps film, music crew, and sound engineers with their mental health.