Marie-Louise Hodgson BEng(Hons) MSc CEng FCIHT
Published: 12/05/2021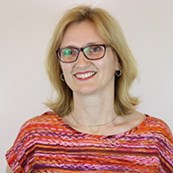 Education and qualifications:
MSc Transport Planning and Engineering, Edinburgh Napier University
BEng (Hons) Civil Engineering, Nottingham Trent University
BTEC Ordinary National Certificate (ONC) Civil Engineering
Job title:
Transportation Consultant
Part-time Lecturer in Infrastructure (Highways and Transportation)
Employers:
Pick Everard
Nottingham Trent University
What inspired you to become an engineer or pointed you towards an engineering career?
I needed to do something that combined my love of creativity, problem solving and logical analysis. I tried other science-related routes and other creative routes, but none worked for me. It took me a while to discover engineering, but when I did it fitted perfectly, and it's great that engineering allows us to make a real contribution to the lives of people and the environment.
My career started as a draughtsperson with the Ordnance Survey in 1986. After two years I moved on to become a Highway Design Technician with an engineering consultancy. I studied part-time in Derby for a BTEC ONC in Civil Engineering, which led me to study full-time at Nottingham Trent University for a BEng (Hons) in Civil Engineering. After studying, I spent ten very valuable years as a highways and transport engineer with local authorities.
In 2003 I started at Pick Everard as a member of a small highways team. Over the years the team has continued to expand, at least quadrupling in size, and I have been successful in the development of a dedicated transport team.
Throughout my career I have actively sought opportunities to educate young people about the opportunities available to them in a career in engineering and have enjoyed being a Science, Technology, Engineering and Maths (STEM) Ambassador. A few years ago I extended this interest by becoming a part-time lecturer at Nottingham Trent University (NTU) as part of the delivery team for Civil Engineering undergraduate and post-graduate courses, alongside my work with Pick Everard. I find this role very exciting and fulfilling.
Please describe your role or position within your workplace.
My role at Pick Everard:
I manage a team of four transportation engineers and technicians. We prepare transport feasibility studies for potential new developments, transport assessments, travel plans and parking analysis/strategy studies. We also provide advice regarding external site layout design to appropriately and safely accommodate the access and circulation needs of users of all modes of transport. Project sizes range from a small new building to large multi-purpose masterplan developments.
As well as physically undertaking transport analysis work for various projects and preparing associated technical reports, my role includes team and resource management, management of projects, providing multi-modal design advice and expertise, and team mentoring and training.
My role as a Lecturer at NTU:
I prepare lectures, seminars, courseworks and exams for both on-campus delivery and online delivery to students, relating to the subjects of sustainable transport and highway design. I am then, of course, responsible for marking the students' work and issuing feedback. I also contribute to the administrative process in terms of timetable planning and the recording of student attendance and grades etc.
Can you describe a typical working day?
My working day at Pick Everard:
As a team we start by reviewing how each of our projects has progressed and what needs to be done next by each member of the team in order to maintain efficient project progress. We might discuss ideas for data sources and methodologies that could be appropriate to use and consult with clients and highway authorities to approve these. I will oversee and advise team members as they progress with work such as site visit preparation, preparing traffic survey briefs, traffic distribution calculations, junction modelling and multi-modal access design.
I spend much of my time advising clients and architects about transport issues relating to their development project and how these may best be addressed through adjustments to the design, further analysis and further consultation with the authorities, while being mindful of not compromising the aims and objectives of the development itself. I also spend much of my time advising potential new clients about the transport analysis requirements of their proposed development in terms of their planning application and explaining how we can help them to fulfil these requirements.
In a typical week I might have several meetings, either visiting a site or meeting clients, local authority officers, or other stakeholders such as members of the public (in person or in an online meeting) to discuss transport-related issues regarding a proposed development, and helping to move a project forward in a positive manner.
My working day as a Lecturer at NTU:
I will either spend a day preparing lectures, seminars, coursework and exams or else marking coursework and exams, or I will spend a day delivering classes to students, either on-campus in a classroom or online.
Are there any particular challenges or unusual aspects to your role?
Regarding my wok at Pick Everard:
I expect so, but we take it all in a day's work, never expecting one job to be the same as another, always presenting new challenges, so I don't really identify that a particular job is more unusual or more high profile than another, we just get on with it. Certainly some jobs can be more challenging than others when there are a lot of competing needs and constraints to balance such as budget, programme, physical site challenges, end-user needs, local authority expectations and client expectations.
Regarding my work as a Lecturer at NTU:
My teaching material is greatly inspired by my own experience and projects that I have worked on during my career, which allows me to offer many real-life examples and exercises to the students in order to try to demonstrate how what they are learning relates to the real world of work. When preparing my teaching materials I spend a lot of time considering the most appropriate projects from my portfolio of work and how these can be turned into suitable examples and exercises. It is important that I remain up-to-date with the latest thoughts, practices and innovations in the industry in order to keep my teaching relevant. I stay informed about any changes in policies, practices, procedures and design guidance, as well as new innovations, by being aware of how practices are changing and moving forward in my work at Pick Everard as well as by maintaining my own CPD and keeping this varied to cover a wide scope of highways and transport engineering topics.
What do you find most enjoyable about your job?
At Pick Everard I am really fortunate that I work with a fabulous team of people who are all genuinely passionate about what we do, and we work really well together as a cohesive team, always supporting each other on each project. We are lucky enough to have the opportunity to work on a very wide variety of interesting projects for an equally wide range of public and private sector clients at sites all across the UK, so no project is ever the same and we are always presented with new and exciting challenges to tackle. This keeps us on our toes and keeps us keen to know what's coming next, requiring us to get our mental juices and imaginations going to find creative methodologies and solutions. Work is never boring; we get to meet all sorts of interesting people in all sorts of interesting places, and at the end of a project we can be justifiably proud of a challenge well met, a job well done, new experiences gained and a genuine contribution made to the sustainable credentials of a project.
As a lecturer I have the pleasure of sharing the knowledge and experience that I have gained throughout my career, and the passion I have for my subject, with young people, helping to nurture the next generation of engineers. This is very satisfying.
Is there a great professional achievement or high-profile accomplishment that you would like to tell us about?
I am particularly interested in the development and mentoring of young technicians and engineers. I pay particular attention to the encouragement and professional development of my own team members and enjoy taking part in events at schools and colleges as a STEM Ambassador. It is a privilege to have been asked to take on the role of part-time lecturer at Nottingham Trent University, delivering BEng and MSc modules in Infrastructure (Highways and Transportation) and to have the opportunity to directly influence and train the next generation of engineers in my field.
What contributed to your decision to become professionally registered?
I first heard about the Chartered Institution of Highways and Transportation (CIHT) when working in a local authority, where membership of the professional institution was highly regarded. At Pick Everard I set about re-evaluating where I could take my professional career. My first thought was to find out what the institution could offer. I was pleased to find that, with its particular relevance to my areas of interest, the routes to membership and to becoming a Chartered Engineer (CEng), CIHT was the institution that most suited my professional needs and career aspirations. I was delighted to be accepted as a member.
This gave me the impetus to go back to part-time study to gain my MSc in Transport Planning and Engineering and, on completion, I decided to keep going and set myself the challenge of sitting my Chartered Professional Review through CIHT within 12 months.
I had undertaken an approved graduate engineer training programme, while working for Leicester City Council. This, along with my BEng (Hons) and MSc, allowed me to progress via the standard route. I was assigned a mentor by CIHT and received a great deal of support from my manager. I was the first person at Pick Everard to go through the process through CIHT. As I was quite late in finally deciding to take my CEng review, having raised a family first, I had a great deal of previous work experience covering a variety of areas to draw on when writing up my submission document. I had kept records of it all over the years, so this made writing up my submission document relatively straightforward.
In what ways has registration benefitted your career?
It has boosted my confidence and my credibility enormously. It has allowed me to demonstrate the standards required by my employer to qualify for promotion and to improve the credentials of the firm when bidding for work.
How does your employer benefit from your professional registration?
My CEng credentials improve the credentials of the firm as a whole, adding greater weight to bids for major projects. Pick Everard holds professional registration at all grades in very high regard. My employer was delighted that I had finally decided to work towards registration, and I was given full support in doing so.
Is there any advice you would pass on to someone considering professional registration?
Be organised in your preparation and records of work experience for some time beforehand as this will make preparing your submission document a lot easier and less daunting. Then I would highly recommend going for it, to gain CEng status is very worthwhile. To my surprise I actually enjoyed my interview.
Where do you see yourself in your career in five years' time or what are your future ambitions?
I intend to continue to work to support the further development and expansion of my team at Pick Everard, and to mentor those team members who are not yet professionally qualified through the process of becoming so. I also hope to be involved in the expansion of the Transportation Engineering delivery at NTU, helping to develop new modules and courses.
Outside work, is there any activity you enjoy doing in your spare time that relates to engineering? For example, do you participate in mentoring, volunteering or membership of other engineering groups?
Throughout my career, I have enjoyed being an active STEM Ambassador, introducing and promoting civil and transportation engineering to students.
A couple of my main hobbies that I have been enjoying since I was a young teenager are designing and making period costumes and elaborate cake decorations. It was these sewing and modelling hobbies that first got me into engineering. My dad, who is a mechanical engineer, commented when I was a teenager that I had a skill in understanding how to convert a flat shape (a drawing) into a pattern and then a three-dimensional shape in order to construct it, and he consequently concluded that I would make a good engineer!