Lynsey Seal CEng MIFireE
Published: 02/11/2015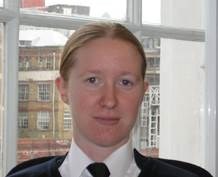 Education and Qualifications: BEng (Hons) in Mechanical Engineering, BEng (Hons) Fire Safety Engineering
Which Institutions are you a member of? Institution of Fire Engineers (IFE), Institution of Mechanical Engineers (IMechE), Chartered Institute of Educational Assessors (CIEA)
Grade of membership: Member
Current job title: Senior Fire Engineer and head of LFB Fire Engineering Group
Company: London Fire Brigade (LFB)
Approximately how many people are employed by your company? 7,000
Where are you based? London Fire Brigade HQ, London Registered: 2011

Please describe your current role:
I am a senior fire engineer and also the joint head of the London Fire Brigade (LFB) Fire Engineering Group, overseeing five full time fire engineers. The Fire Engineering Group form part of the Regulatory Fire Safety Department of the London Fire Brigade and act as internal consultants to fire safety colleagues and other departments within the Brigade. Our primary role is to review fire engineering solutions or complex fire safety strategies that have been submitted as part of the Building Regulations Approval process, but our work covers a lot more than this. We participate on numerous technical committees to improve fire safety design standards and take part in a variety of research projects, providing a fire service viewpoint and independent technical comment. We are all trained fire safety officers able to deal with fire safety contraventions in occupied buildings under the Regulatory Reform (Fire Safety) Order 2005, and can provide expert witness support where needed. LFB support this by funding selected officers to gain a university-accredited expert witness certificate. We also regularly liaise with our fire investigation unit to identify failure trends in building construction or system designs.

Please provide a brief outline of your career so far:
After completing my GCSEs I was offered an apprenticeship by a mechanical manufacturing company which produced equipment for the oil and petrochemical industry. I was fortunate to be sponsored to gain academic qualifications including ONC/HNC and BEng (Hons) in Mechanical Engineering, whilst gaining work experience. After a spell working as a mechanical project engineer at another company I decided that I needed a career change and saw an advert for fire safety officers at LFB. I was selected to join LFB in 2004 and offered to join the Fire Engineering Group due to my engineering background. It was a steep learning curve but I was lucky to work under two excellent mentors. LFB sponsored me to undertake the BEng (Hons) Fire Engineering degree at the University of Central Lancashire (UCLAN), where I graduated with a First Class Honours and received the annual award for the best fire dissertation. I was then supported to progress towards registration as a Chartered Engineer with the Engineering Council.
Have you worked on any unusual or high profile projects?
I was extremely lucky to work on the 2012 London Olympics Athletes Village as well as being the lead LFB engineer on the Westfield Stratford City shopping centre, one of the biggest undercover shopping malls in Europe. My role gives me access to very high profile projects including site visits such as to the top of the Shard, Wembley Stadium, or to see parts of London that most people don't know exist.
What attracted you to become registered?
Becoming registered with the Engineering Council was always something I aspired to and LFB support this by having it written into our job descriptions. The ethos of professional development is well established within our team and is something we all strive to achieve.
How did you become registered?
I applied for AMIFireE when I graduated from UCLAN in 2008. The next step was to apply for CEng registration and as my Mechanical Engineering degree was accredited, I was able to apply via the standard route, without having a Masters level qualification.

How did you find the process and assistance you received?
I found the process relatively straightforward as I had several colleagues who had already undertaken the standard route application. A representative from IFE explained all the expectations relating to the professional registration review and interview process and gave me guidance on how my role and experience met the requirements set out in UK-SPEC.

How has registration benefited your career?
Having attained registration I was in an excellent position to seek promotion within the group when a vacancy arose at senior fire engineer level. It has also facilitated my acceptance onto various working parties and committees supporting both my own further development and work of our group. What are your future goals? My main short/medium term goal is around the development of our group and to help others get to the stage where they can also seek registration.

What is your employer's attitude towards registration?
Were they supportive while you were working towards registration? LFB is extremely supportive of the need to have both qualified and registered engineers working within our group. My senior engineer and referee were very supportive and helped me to develop and ensure it was the right time for me to apply.

Do you have any advice for potential registrants?
Talk to others who have already undergone the process and consider all registration options available. Be honest about your experience and get used to talking and writing about what you as an individual have done – registration is not a time for modesty.
What are the challenges and opportunities facing women fire engineers today?
At the beginning of my career I felt a strong need to prove myself and gain respect in what was a male dominated environment. I am pleased to say that from my perspective the fire engineering industry does not have any out-dated issues that some other engineering disciplines are perhaps still trying to shake. There is a good distribution of women engineers, not only in consultancy practices but also on technical committees and network forums. There are challenges but I am lucky enough to be in an environment where I feel completely supported and respected among my colleagues. If there are any women engineers who feel they need some sort of validation then I would recommend applying for professional registration. Being assessed by a well-respected peer group is a great opportunity for any engineer to see how far they have come in terms of their development and provides a real sense of achievement.

Lynsey Seal CEng MIFireE


Registered: 2011