Ludovic Grosjean MEng MSci CEng MIET CPEng NER
Published: 08/06/2020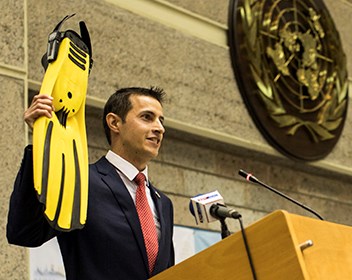 Education and qualifications:
Masters of Physics & Engineering Sciences majoring in Physics and Environmental Surveillance (MSci), University of the South Toulon-Var (USTV), France
Masters of Electronics and Digital Technology (MEng) and Bachelor in Mathematics, Physics and Engineering Sciences (BEng), L'ISEN Toulon (Institut Supérieur de l'Électronique et du Numérique), Yncréa, France
Job title:
Engineer & Principal Consultant
Employer:
OceanX Group, Melbourne, Australia
What inspired you to become an engineer or pointed you towards an engineering career?
My grandfather was an engineer. When I was younger, he asked me the question "What can you do in this world to make a difference?" So, I followed in his footsteps.
I believe that every engineer has a mission to inspire younger generations to be innovative. We should encourage them to make a difference through their profession. For me, it means showing the world that technology has the power to save our oceans, and to communicate why it matters to everyone.
Please describe your role or position within your workplace.
I am an Engineering Consultant in environmental remote sensing technologies. I design innovative solutions to monitor the environment. The technology that we deploy detects and reduces environmental pollution and contributes to saving our oceans.
I lead a team of consultants who help our customers to implement durable solutions for local communities and future generations. I deal directly with original equipment manufacturers, city councils, Non-Governmental Organisations (NGOs), non-profit organisations, small and large companies, and park authorities.
Can you describe a typical working day?
No one day is like another, but each day is always really fast-paced and there is always something new to learn. The range of activities can involve designing new technology, testing equipment, media interviews, and of course, meeting customers. There is always something exciting to achieve. It can be a challenge to keep a perfect work-life balance, especially while travelling.
Are there any particular challenges or unusual aspects to your role?
My role involves empowering the people around me. I have been honoured as one of the Rotary People of Action: Young Innovators at the United Nations (UN) in Kenya, and I love empowering the young and making a difference for future generations. I try to inspire as many people as possible to help solve the challenges that humanity is facing. Every day I plant seeds around me, until I transform deserts into an oasis of possibilities.
What do you find most enjoyable about your job?
I really enjoy working in different locations with different technologies. International travel is a major part of my job, and in the past eight years I have had the opportunity to work on four continents and live in four different countries. I have met incredible people and really enjoyed discovering new cultures. I feel really lucky to have had the chance to work in some of the most remote locations on earth and in nearly untouched natural surroundings.
Is there a great professional achievement or high-profile accomplishment that you would like to tell us about?
Being identified as one of the Rotary People of Action: Young Innovators was an honour and a lifetime achievement. It recognised my involvement in connecting with communities and identifying their needs, mobilising resources and implementing lasting solutions to local and global humanitarian challenges. This award is much more than a lifetime achievement; it is a unique opportunity to empower others and their projects on a global scale.
I was also profiled as one of Australia's Most Innovative Engineers 2019, an annual program run by create magazine (published by Engineers Australia). I was listed in the Young Engineers category for my work on combatting pollution, having developed an algorithm that will enable drones to detect, and therefore collect, plastic in water.
What contributed to your decision to become professionally registered?
I originally started the process through the Institution of Engineering and Technology (IET) for migration purposes, and I quickly realised the exceptional value for my career in achieving professional registration. Undertaking the assessment forced me to fill in critical gaps in my Continuing Professional Development (CPD). Since my registration, I have considerably reduced project risks and costs while maintaining safety on worksites. Overall, professional registration helped me to considerably increase the value of my work.
In what ways has registration benefitted your career?
My career accelerated exponentially within three months of my professional registration. The high standards required to achieve professional registration brought additional credit to my projects and significantly raised my profile. People and recruiters started to approach me, and opportunities began flowing my way.
Two months later, I was invited to participate in an international competition organised by Rotary International. In September 2018, the OceanCleanX project was chosen to be awarded at the UN! I had the amazing opportunity to present my project in front of 1,000 UN officials, philanthropists and Rotary members, and received the title Rotary People of Action: Young Innovator.
I was offered a wide range of public speaking opportunities to present ocean conservation at international conferences. I was also contacted by a television show on the future of transportation to speak about drone technology with the support of the New South Wales State Government. All of this happened within the first six months of becoming professionally registered!
How does your employer benefit from your professional registration?
Because professional registration has become mandatory in some Australian states, depending on the engineering discipline, employers are now looking at hiring qualified engineers with professional registration who are registered on the Australian National Engineering Register (NER). Overall, professional registration supports the high standards of professionalism expected within the industry and is an exceptional tool that connects talent to opportunities.
Is there any advice you would pass on to someone considering professional registration?
Do not hesitate to consider professional registration, as it will open doors you do not even expect. Professional registration will enhance the way you work, and it will also add an international dimension to your engineering degree. Finally, it will help you to connect with some of the best people and accelerate your career. I believe that undertaking professional registration through the IET is the best investment you will ever make.
Where do you see yourself in your career in five years' time or what are your future ambitions?
I want to empower younger generations to make a positive impact through the engineering profession. I also aim to inspire the engineering community to design sustainable products. Overall, my goal is to make a significant impact on protecting the world's oceans within the next five years.
Do you participate in any other career-related activities, such as volunteering or membership of other engineering groups?
Volunteering is a major part of my life. I choose volunteering positions based on three specific criteria.
Firstly, advancing the engineering profession: I am currently initiating one of the Chartered Engineer Certification working groups for the Institute of Engineering and Scientific of France (IESF). I am developing the International Relations with Yncréa Alumni (28,000+ Engineers), and I was formerly Head of International Relations (8,000+ Engineers) with the Higher Institute for Electronics and Digital Training Alumni Association (AI ISEN). I am Chair of the Institute of Engineering and Technology Young Professionals Section (IET-YPS) in Victoria, and Victorian representative for Australian and New-Zealand Young Professional Forum. I am an Event Coordinator & Board Member at the Australian Association for Unmanned Systems (AAUS), and a Corresponding Member on the National Committee for Mechatronics (NCMech) with Engineers Australia (EA). I am an active member of the Project Management Institute - Melbourne Chapter (PMI), and I support Electrocomponents Fresh Advisors Board.
Secondly, protecting the environment is very important to me. I am a Board Member of Environmental Sustainability Rotary Action Group (ESRAG) and a Sustainability-Expert for the Host Organization Committee Rotary International Convention (HOC RICON 2023). I am currently interviewing Ocean Innovators in weekly portraits to support ocean protection and United Nations Sustainable Development Goals (SDGs), as well as organising clean-up events with Clean Up Australia. I am also the Environmental Representative and Former President of Melbourne City Rotaract Club (MCRC).
Finally, I volunteer to help the community. I support Rotary International (RI) in their End Polio Now actions, and the protection of children through Association Pour Un Rêve d'Enfant - P.U.R.E.
Outside work, is there any activity you enjoy doing in your spare time that relates to engineering?
Outside work, I enjoy hosting Cross-Mentoring groups for engineers to support their personal development in their early careers. As a Professional Speaker, I inspire masses at large industry or community conferences and promote the engineering profession. I also interview the world's leading "Ocean Innovators" to inspire the younger generation to make a difference throughout their professional careers.