Janvi Shah PhD CEng MCIHT
Published: 03/04/2019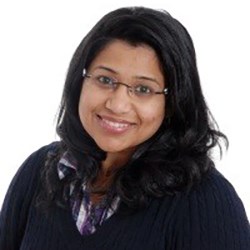 Education and qualifications:
PhD in Resilience in Asset Management
MSc in Geotechnical Engineering
BEng Civil Engineering
Job title: Manager, Asset Management Advisory team
Employer: KPMG
What inspired you to become an engineer or pointed you towards an engineering career?
My father is a civil engineer. Growing up, I would visit his workplace and building sites – the work interested me and the other civil engineers who worked for him taught me simple and basic rules of civil engineering. I was fascinated by mega structures and inter-connected infrastructure. My interest grew during my holiday to London where I noticed magnificent historic transport structures like Tower Bridge and the London Underground that have been operating efficiently since Victorian times. I wanted to be part of building a better world and took up engineering straight after school. I chose a career in transportation and engineering as I believe it is essential for a nation's economic development and for us to be a well-connected society.
Please describe your role or position within your workplace.
While working as a Senior Consultant in the Transportation Practice in Atkins, I provided strategic advice on investment planning and asset management for highways authorities. Following my career with Atkins, I joined KPMG in their Asset Management Advisory team in February 2019, which specialises in transformation, strategy, diagnostics and asset performance.
Can you describe a typical working day?
There is no typical day at KPMG, each day is different, offering unique challenges and innovative solutions for our clients. This could range from supporting an organisation in their internal audit to advising on major transformation around asset management for an asset intensive organisation.
During my secondment to Highways England (HE) while working with Atkins, a typical working day involved looking at HE's asset management practices and offering advice at a strategic and tactical level. I supported HE to develop a risk-based approach to implementing asset management – which was both challenging and super exciting. Previously, I delivered asset management solutions for local authorities such as creating life-cycle asset management plans, investment planning and making a case for the Department for Transport's incentive funding. I have also worked in bidding and project management for live projects.
Are there any particular challenges or unusual aspects to your role?
Particular challenges in my role involve avoiding a siloed approach in an asset owner's organisation. For my projects, I often seek to engage with other teams to align the work we do with the rest of their business. In addition to delivering my own project to the right quality and timescales, I try and ensure that the client gets a coherent, end-to-end and consistent answer which helps deliver an effective asset management solution.
What do you find most enjoyable about your job?
I enjoy engaging with the client on a regular basis. I understand their current pressing needs and their challenges in maintaining the road network with a finite pool of resources. I get to use the latest best practice guidance and implementation, to offer real solutions on the road network, offering value for money.
Is there a great professional achievement or high-profile accomplishment that you would like to tell us about?
I started working as a geotechnical engineer working on earthwork remediation schemes on England's Strategic Road Network (SRN). In that role, I was responsible for planning, design, value management and delivery of earthwork remediation projects for five schemes on England's SRN to alleviate congestion and improve safety as a part of the Pinch Point Programme delivered by the Highways Agency (now Highways England Company Limited, the government-owned company that operates, maintains and improves England's motorways and major A roads). The projects were worth £5 million on a tight programme of 18 months. I project managed and designed the scheme while studying part-time for my PhD in asset management. The project was delivered on time and budget by working with multi-disciplinary engineering teams, through which I gained an understanding of cross-asset engineering.
I was awarded the New Civil Engineer (NCE) Young Geotechnical Engineer of the Year Award in 2014 and I published a paper on my research which won the best paper award. I was also honoured when I won the best technical paper award in the New Civil Engineer magazine's themed edition on Asset Management, which was written based on the findings of my PhD research.
In November 2018, I was proud to be awarded a Highways Associate Laureate by Highways UK, the annual event organised for those responsible for the planning, designing, building, maintaining and operating of the UK's road network. This award is given to an individual with under ten years' experience who has already demonstrated the attributes that set them apart as future industry leaders.
What contributed to your decision to become professionally registered?
I wanted to become a Chartered Engineer because it improves your value and credibility in the work you deliver. I believe you are 'Chartered for Life' – sorry, that does sound a little dramatic, but it is true. Once you are Chartered, it stays with you and it helps improve the fraternity's perception of you. They have more confidence in the solutions you offer, and it gives you the confidence to articulate solutions which have both technical soundness and whole-life effectiveness.
In what ways has registration benefited your career?
The Chartered Engineer registration has benefited my career professionally as well as personally. Professionally, it has helped me take more responsibility and deliver fit for purpose solutions. Personally, I feel more confident in presenting my solutions to the client.
How does your employer benefit from your professional registration?
The employer can offer my services to the client in a technical specialist category and this helps generate more revenue for the organisation. It also improves the technical competency and quality of the work being offered to the client.
Is there any advice you would pass on to someone considering professional registration?
Please do it and keep yourself motivated. Find a mentor with whom you can ask questions, share ideas and ask for guidance when submitting. Perseverance is the key, like any professional achievement.
Where do you see yourself in your career in five years' time or what are your future ambitions?
I see myself offering strategic and technical advice to clients, providing both meaningful and resilient solutions for managing the transport network that are fit for purpose both now and in the future. I would like to be able to write best practice guidance and standards in my area of expertise. In addition, I would like to teach as visiting faculty to postgraduate and PhD students in university, so we can connect the bridge between academia, research and development and industry, to promote innovation and influence for the next generation.
Do you participate in any other career-related activities, such as mentoring, volunteering or membership of other engineering groups?
I am a mentor for the Chartered Institute of Highways and Transportation (CIHT) to support aspiring professionals to gain Chartered status through mentoring and coaching. I am also on the Young Professionals Committee of CIHT.
Outside work, is there any activity you enjoy doing in your spare time that relates to engineering?
Activity that relates to engineering – I help my three-and-a-half-year-old year old who loves making buildings using building blocks. I am sure that counts!