EUR ING Sareer Ahmad Lone M.Tech CEng IntPE(UK) PE MIET MIE SMIEEE
Published: 12/01/2021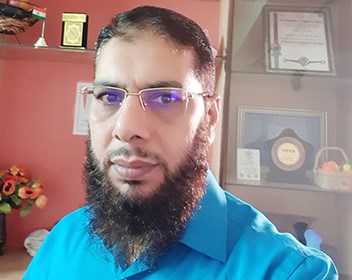 Education and qualifications:
Associate Member of Institution of Engineers (AMIE) degree in Electrical Engineering
Master of Technology (M.Tech) in Electrical Engineering
Bachelors Degree in Electrical Engineering
Diploma in Electrical Engineering
Job title:
Electrical Design Expert/ General Manager
Employer:
Egis India Consulting Engineers PVT LTD
What inspired you to become an engineer or pointed you towards an engineering career?
It was my passion from my childhood to become an engineer. The colleagues and seniors of my father inspired me to choose an engineering career.
Please describe your role or position within your workplace.
I am working in a leading role in the Electrical Engineering Department. I am responsible for planning, design, engineering and project management in power, transmission and distribution, and infrastructure services etc, within my organisation. I learn, teach and develop new skills on a daily basis.
Can you describe a typical working day?
My working day starts at 8am and I feel fresh and enthusiastic to start the new day in my office. I first check my emails and then see if there is anything pending from the previous day. I try to finish the previous pending work if there is any and then I make a plan for the day's work with my colleagues and subordinates before getting started. I take my lunch at 1pm and then do a prayer in the office in a separate room. In the second half of the day, I attend important meetings and also try to help and support my colleagues and subordinates to get work done as planned. At 4.30pm I leave my office. I arrive home at 5pm and then start playing with my children and family.
Are there any particular challenges or unusual aspects to your role?
Yes, there is always a challenge. New design and new technology, new developments and new projects combine to create challenges. Additionally, how to effectively satisfy customer requirements and getting support from team members can both be challenging. To meet life goals on a day-to-day basis is always a challenge for me. Overall the whole life is a challenge.
What do you find most enjoyable about your job?
Keeping busy with my work, having new challenges and having more projects in my organization are things I most enjoy about my job.
Is there a great professional achievement or high-profile accomplishment that you would like to tell us about?
Yes, I started my career in 1999 with a diploma in Engineering. I worked and studied continuously and finally I did my Bachelor's degree in Electrical Engineering in 2004 and then Master's degree in Engineering in 2010. I also achieved my Associate Member of Institution of Engineers (AMIE) degree in Electrical Engineering in 2018. I was always keen to move ahead of others. I started working towards my professional registration in 2011, became a member of the Institution of Engineering and Technology (IET) and I first achieved Incorporated Engineer (IEng) status in 2015. I became a Senior Member of the Institute of Electrical and Electronics Engineers (IEEE) in 2015, and then a Chartered Engineer (CEng) in 2017. After this I achieved European Engineer (EUR ING) registration in 2018, when my aim was to achieve registration as an International Professional Engineer (IntPE), which I did in 2020. Recently I achieved the Professional Engineer status from Engineering Council of India. I have an aim to move ahead of everyone, and I am still looking to see if there is anything left in my career to achieve. I also want to move to a more senior position in my organisation.
What contributed to your decision to become professionally registered?
Looking at seniors and to those who are professionally registered, I decided to work towards professional registration. I saw that professional registration gave a lot of respect in front of peers, seniors and subordinates. I was a member of a local body, the Professional Chartered Members of UAE, whose main aim was to educate people to become professionally registered, and I attended meetings with IET and IEEE. Looking at those who chaired these meetings at their achievements, respect and position both contributed to my decision to become professionally registered and motivated me in working to achieve that. I feel proud to be professionally registered and that professional registration improves your professional visibility and attracts recruiters towards your profile.
In what ways has registration benefitted your career?
My colleagues and seniors respect me and I get more job opportunities from big companies. My employers know they can rely on me due to my professional registration. People regard me as a professional and a solution-provider.
How does your employer benefit from your professional registration?
My employer benefits in a number of ways from my professional registration. Whenever they have to submit employees' CV for bids, they always prefer to submit my CV to demonstrate they have professionally registered staff and have a better chance of winning the tender, which has benefitted them a lot. They also know they can rely on my work, especially my designs.
Is there any advice you would pass on to someone considering professional registration?
Everyone should consider applying for professional registration after achieving the required level of competence and commitment. When a person achieves professional registration, there are a lot of expectations that need to be fulfilled, but also many professional registration benefits.
Where do you see yourself in your career in five years' time or what are your future ambitions?
I want to be in a top management role in the next five years.
Do you participate in any other career-related activities, such as mentoring, volunteering or membership of other engineering groups?
I participate in mentoring.

Outside work, is there any activity you enjoy doing in your spare time that relates to engineering?
I enjoy studying to refresh my knowledge, which helps me to keep me up-to-date.