EUR ING Joao Alves MEng CEng MICE
Published: 05/04/2018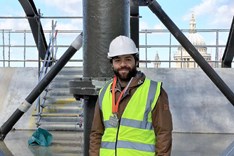 Education and qualifications: MEng, Civil and Structural Engineering at Faculdade de Engenharia da Universidade do Porto, Portugal
Which Institutions are you a member of? Chartered member of Institution of Civil Engineers (ICE), Graduate Member of the Institution of Structural Engineers (IStructE), Chartered member of Portuguese Society of Engineers, Member of the Portuguese Steelwork Association (CMM)
Current job title: Senior Structural Engineer
Company: BuroHappold Engineering, London
Length in current job: 12 Months
Approximately how many staff are employed by your company?  > 1000
Where are you based? London
Please describe your current role
I work as a Senior Structural Engineer for BuroHappod Engineering in London. I have been working on a wide range of projects in diverse roles, ranging from feasibility design to project management and completion. 
I am currently part of the team responsible for the design delivery of King Abdullah Financial District (KAFD) Metro Station in Riyadh (Saudi Arabia), which will be one of the major interchanges in the new Riyadh Metro network. BuroHappold has been commissioned for work on eighteen disciplines, including structural engineering, and I am leading a team of six structural engineers and several computer-aided design technicians. 
I am also involved on a number of other projects with complex structures in various different roles such as project leader, providing technical advice, design management and liaison with clients. I also assist in the technical development of staff, coaching and mentoring them on technical issues. 
What inspired you to become an engineer?
I come from a small village in the North of Portugal close to the city of Porto. When I was a child I remember going to Porto with my parents at weekends and seeing all the amazing buildings and iconic bridges. I was always intrigued by how those major city structures were built, especially the famous Porto bridges. I guess this was the start of my interest in engineering. Later on in high school I was good at maths and physics, which led me into an engineering university and, no surprise, I became a structural engineer. It was a natural choice for me. 
Please provide a brief outline of your career so far
I began my career in 2008, after graduation from FEUP in Porto, Portugal. I joined Portuguese company Fase S.A as a graduate structural engineer and worked on diverse projects up to construction stage. I worked almost exclusively on special structures, including long span roofs and industry projects, hospitals and school buildings and several apartment complex developments. 
My particular interest in special structures and architecture prompted me to join structural engineering consultant AKT II in London in 2012. More recently I joined BuroHappold engineering. Over the last five years I have been working in London, first as a design engineer and latterly as a senior engineer. 
Have you worked on any unusual or high profile projects?
I worked on the new London headquarters of financial media firm Bloomberg, designed by Foster + Partners. The project was a bespoke 100,000 m2 space with ground floor retail space and views of the City and had several design constraints. The complex scheme provided me with many opportunities to find innovative solutions and use my design experience and knowledge in working with steel and composite structures, as well as my computer modelling skills. I was also exposed to tasks from concept design to construction stage, which helped me to become more familiar with the UK construction process. This project was also important for my application to become a Chartered Engineer (CEng). 
One of the projects I worked on in Porto as a Design Engineer was a mixed use development "Agros Space". I played a key role in the design and structural calculation for the large-scale scheme, which included commercial headquarters, laboratories, and 54 acres of park land with recreational facilities. It was nominated for Archdaily Building of the Year 2014 in the "Offices" category. 
How did you become registered as a Chartered Engineer (CEng)?
Becoming chartered was always an important goal for me, since leaving university. Just after completing my engineering degree I decided to register with the Portuguese Engineering Association as a graduate member and four years later I became chartered. I see professional registration as the next stage in professional development after completing an engineering degree. 
Similarly when I moved to the UK I was introduced to the Engineering Council and professional engineering institutions whilst working for AKT II. I decided immediately to register with the Institution of Civil Engineers (ICE). After a few months I began the application process for becoming a CEng following assessment under the European Directive on the mutual recognition of professional qualifications, as I was already chartered in my home country. 
During my application AKT II played a very important role, supporting me with training, monitoring my continuous professional development (CPD) and providing me with a mentor to guide me through my application. ICE was also supportive, especially in providing preparatory training for the Professional Review Interview. 
The process forced me to reflect on my career, my experiences and what I had achieved and it helped me to think about my future goals. This was definitely a useful exercise. The whole process took me almost two years. After becoming a CEng I felt the recognition and respect from the industry, which obviously helped my self-confidence, especially at external meetings and site visits. It was also a fundamental step in my career progression. 
What advice would you give someone considering working towards professional registration as a CEng?
To anyone considering professional registration, I would say go for it! Becoming a CEng is very worthwhile. The hardest part is making the decision to start.
At BuroHappold I am supporting some graduates in their applications to become professionally registered. As a UK ambassador on behalf of my university in Porto, I also try to show my fellow Portuguese working in the UK the benefits of becoming CEng. For example, last year I organised two workshops about becoming a Chartered Engineer, covering the benefits, routes to and requirements of registration and offering tips on how to put together a successful application. One of these workshops involved several institutions, including ICE and the Institution of Chemical Engineers (IChemE).