EUR ING Joao Alves MEng CEng MICE MIStructE
Published: 27/10/2020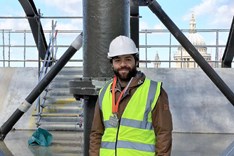 Education and qualifications:
MEng, Civil and Structural Engineering at Faculdade de Engenharia da Universidade do Porto, Portugal
Job title: Associate Structural Engineer
Employer: Cundall
What inspired you to become an engineer or pointed you towards an engineering career?
I come from a small village in the North of Portugal close to the city of Porto. When I was a child I remember going to Porto with my parents at weekends and seeing all the amazing buildings and iconic bridges. I was always intrigued by how those major city structures were built, especially the famous Porto bridges. I guess this was the start of my interest in engineering. Later on, in high school I was good at Maths and Physics, which led me into an engineering course at university and, no surprise, I became a structural engineer. It was a natural choice for me. 
Please describe your role or position within your workplace.
I am an Associate in the Structural Engineering Team. This role requires a strong technical engineering knowledge as well as management skills. I am not only responsible for technical project delivery (design work, drawings, report writing), but my role also includes responsibilities of management (design and resource management), mentoring, training, preparation of fee proposals, marketing involvement and liaison with clients.
Can you describe a typical working day?
My working day begins early at 8am, with a coffee in hand while I check my emails. At 9am, I have a regular team meeting, where we plan and distribute the work for the day. Depending on my calendar, after that I could be attending meetings with architects, contractors or clients, responding to emails, or preparing reports, designs and drawings. My day typically ends at 6pm.
Are there any particular challenges or unusual aspects to your role?
Time management is always challenging; a challenge which is in part associated to the construction culture. We have to organise ourselves better to make sure we achieve the work planned without the need for overtime.
What do you find most enjoyable about your job?
What I most enjoy about my job is the huge variety in the tasks that I do every day, reducing the chances of getting bored. I also enjoy the rewarding feeling of achievement once the project is completed and you see the final product.
Is there a great professional achievement or high-profile accomplishment that you would like to tell us about?
I'm proud of being awarded Chartered status by four recognised professional bodies (ICE, IStructE, FEANI and the Portuguese Society of Engineers).
During my career I have been lucky to work on iconic and high-profile projects across the world, such as Bloomberg's London headquarters (designed by Foster + Partners), the King Abdullah Financial District (KAFD) and Metro Station in Riyadh (Saudi Arabia, designed by Zaha Hadid Architects). More recently I've been involved with the Somerset Road Covered Courts, in Wimbledon (designed by Hopkins Architects) - a project currently in construction that comprises indoor/outdoor tennis facilities, six outdoor clay courts and six covered courts under a timber clad double curving roof structure.
What contributed to your decision to become professionally registered?
Becoming Chartered was always an important goal for me since leaving university. Just after completing my engineering degree, I decided to register with the Portuguese Engineering Association as a graduate member and four years later I became Chartered. I see professional registration as the next stage in professional development after completing an engineering degree.
Similarly, when I moved to the UK, I was introduced to the Engineering Council and to the professional engineering institutions by my employer at the time. I decided immediately to register with the institutions as a graduate member. I would like to highlight the important role my employers played: supporting me with training, monitoring my Continuing Professional Development (CPD) and providing me with a mentor to guide me through the application.
In what ways has registration benefitted your career?
First, the professional registration process forced me to reflect on my career, my experiences and what I had achieved, and it helped me to think about my future goals. This was definitely a useful exercise.
After becoming a Chartered Engineer (CEng), I felt the recognition and respect from the industry, which obviously helped my self-confidence, especially at external meetings and site visits. It was also a fundamental step in my career progression. 
How does your employer benefit from your professional registration?
With more CEngs, the company has more suitable candidates for tender processes, and can assure their clients of a high level of quality, competence, commitment and expertise.
Is there any advice you would pass on to someone considering professional registration?
To anyone considering professional registration, I would say go for it! Becoming a CEng is very worthwhile. The hardest part is making the decision to start. At Cundall, I support graduates in their applications to become professionally registered.
Where do you see yourself in your career in five years' time or what are your future ambitions?
I'd like to continue to progress in my career. Also, I would like to gain some academic lecturing experience at a university, bringing some of my experience and knowledge into academia. But things can change a lot in five years, particularly in the construction industry, so who knows what the future might bring...?
Outside work, is there any activity you enjoy doing in your spare time that relates to engineering?
I really like to draw and I am passionate about hand sketching, which is actually an important skill to have as an engineer. It is particularly handy in meetings to communicate concepts and ideas visually.
I also have a personal blog, that is an outlet of my structural engineering thoughts and creative expressions (https://structuralworksblog.wordpress.com/blog/).