EUR ING Ghazanfar Khan CEng IntPE(UK) MInstRE
Published: 15/09/2021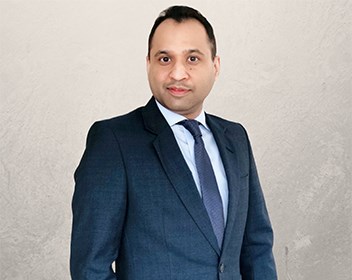 Education and qualifications:
Doctor of Business Administration (DBA) (in progress), University of Central Lancashire
PGDip Petroleum Engineering, Heriot-Watt University
BS(Hons) Electronic Engineering (now 'Electrical Engineering'), Capital University of Science and Technology, Pakistan
Job title:
Engineering and Management Consultant
Employer:
Multinational organisations
What inspired you to become an engineer or pointed you towards an engineering career?
I have had a love for sciences since my school days. I have a very curious nature that initially had me dismantling my toys at a very young age. This and my exceptional academic performance in school and college were the pivotal factors why I chose to enter an engineering school to pursue an undergraduate programme in engineering. I have always been supported and guided by extraordinary teachers and mentors, contributing hugely to all the success I have had so far in my professional career.
Please describe your role or position within your workplace.
I am currently working as an independent Engineering and Management Consultant with various multinational organisations on projects involving organisational re-design, team performance, start-ups, engineering and technology, innovation, customer relations, software development, strategic planning and also working towards starting my own consultancy firm in the near future.
Can you describe a typical working day?
Every day is different with travel to meetings but since Covid-19 and multiple lock down restrictions, most of my work is being carried out online, thanks to technology. A typical working day involves meetings, email communication, providing consultation to my clients and solutions to engineering and management problems, as well as communication with new clients.
Are there any particular challenges or unusual aspects to your role?
Every day is full of challenges, including developing innovative solutions for clients and staying on top of emerging technology trends. That is the exciting part of my job, as I work with different organisations aiming to effectively satisfy customer requirements and expectations.
What do you find most enjoyable about your job?
Continuous learning, application of new knowledge and skills, and reflection are the most enjoyable aspects I find about my job.
My job requires not only excellent technical engineering skills, but also a broad range of related knowledge on topics such as project management (Prince2, The Knowledge Academy, Advanced Project Management for Engineers and Scientists, University of Oxford and Oracle Primavera P6 Professional, EDUCBA), leadership (CMI Level 5 - Certificate in Management and Leadership, Chartered Management Institute) and health and safety (Leading Safely, Institution of Occupational Safety and Health (IOSH)).
Is there a great professional achievement or high-profile accomplishment that you would like to tell us about?
I strongly feel that a high-profile accomplishment in its true sense is yet to come in my life, however whatever I have achieved so far seems to be a reasonable starting point.
After gaining my undergraduate qualification in Electronic Engineering with First Class Honours/Distinction and a medal awarded for outstanding academic performance, I achieved Incorporated Engineer (IEng) registration back in 2009. Then I started working towards gaining a postgraduate qualification in Petroleum Engineering alongside a full-time job and later achieved Chartered Engineer (CEng) registration in 2017. It was followed by achieving International Professional Engineer, IntPE(UK) status in 2019 and then European Engineer (EUR ING) registration through FEANI in 2020.
I am always keen to learn new things and keep pursuing various professional courses and certifications, some of them at world-renowned institutions like the University of Oxford, as part of my Continuing Professional Development (CPD). I am currently pursuing a professional doctorate in business administration (Doctor of Business Administration - DBA), a four-year doctoral programme. My research is about leadership, organisational re-design and performance.
What contributed to your decision to become professionally registered?
While I was an undergraduate student at university I was introduced to professional registration and its benefits by one of my professors, who was a Chartered Engineer and a European Engineer himself. Since then, it has been a dream to achieve these and more.
In what ways has registration benefitted your career?
Chartered status and various international professional registrations have hugely benefitted me throughout my career journey so far and given me true recognition with my peers, clients and other engineering professionals across industries. My professional registrations have always helped me greatly to gain my clients' trust and win new projects. Through experience (national and international), I have learned that any professional decorated with professional recognition is worth much more in the market than the one without it.
How does your employer benefit from your professional registration?
My national and international clients understand that my experience and expertise are peer assessed and my professional registrations vouch for my professional competence.
I have worked internationally, and my professional qualifications have always been highly valued and respected by organisations and professionals alike. I am proud to say that it is primarily because of my professional qualifications and registrations that I am able to plan to start my own consultancy firm in the near future, which I feel would not have been possible otherwise.
Is there any advice you would pass on to someone considering professional registration?
Yes, absolutely, without a doubt. I would highly recommend professional registration because it demonstrates true commitment to one's profession.
Where do you see yourself in your career in five years' time or what are your future ambitions?
I see exciting yet challenging times ahead as I plan to start my own consultancy firm in the near future. I strongly believe that my professional qualifications coupled with my expertise would definitely help gain clients' trust and fulfil their expectations.
Do you participate in any other career-related activities, such as mentoring, volunteering or membership of other engineering groups?
I mentor people towards Chartered Engineer (CEng), Incorporated Engineer (IEng) and Engineering Technician (EngTech) registrations from time to time and find it very rewarding. I have previously served as an accreditation assessor with The Institution of Materials, Minerals and Mining (IOM3), which involved visiting higher education institutions in the UK and abroad to accredit engineering degree programmes and industrial settings to approve Initial Professional Development (IPD) schemes. I am also an approved Science, Technology, Engineering and Maths (STEM) Ambassador and love to share my professional experiences and promote engineering and sciences among young people.
Outside work, is there any activity you enjoy doing in your spare time that relates to engineering? For example, do you participate in mentoring, volunteering or membership of other engineering groups?
I enjoy travelling, sports, current affairs (national and international) and spending time with family.