Eur Ing Dr Keith J Hawken DBA(Hons) CEng FIET FIAgrE
Published: 01/05/2019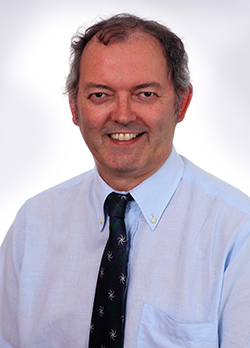 Education and qualifications:
Doctor of Business Administration (Hons-Mechanical Engineering)
Job title:
Technical & Standards Director
Employer:
Agricultural Engineers Association
What inspired you to become an engineer or pointed you towards an engineering career?
Engineering is in the family blood. With my grandfather a pioneer in Canadian railway construction and my father studying chemistry and an expert in paint processes, this led to me becoming intrigued by how things are built and how they work.
Please describe your role or position within your workplace.
I manage our company members' technical needs by influencing legislation that enables machinery and vehicles to be produced safely and sustainably through a product standards portfolio.
Can you describe a typical working day?
Every day is different with travel to meetings all over the globe, solving engineering concerns on a range of products, varying in size from a small chain saw to a large forage harvester, and every type of agricultural and outdoor power equipment or machine in between. Due to electronic communication, much of our research time goes into providing robust guidance and our work compliments future technology and innovations.
Are there any particular challenges or unusual aspects to your role?
The main challenges are in remembering what everyone is planning and how. I can help them achieve their goals by working confidentially within each company, and then helping them achieve consensus when they are brought together.
What do you find most enjoyable about your job?
I enjoy working with so many engineers from the UK and around the globe, striving to reach common ground as well as gaining an insight into brand new innovations.
Is there a great professional achievement or high-profile accomplishment that you would like to tell us about?
One of my most significant achievements has been to pull together a global group of engineers and establish a series of tests for thrown-object hazards from machinery. This is an important safety matter and we now have dynamic testing for all sizes of machinery to adhere to, after proving the criteria over many years of round robin testing (an interlaboratory test performed independently several times) all over the world. This has made it a safer place for operators and the general public as well as enhancing products in the international standards arena.
What contributed to your decision to become professionally registered?
As a young engineer I was enthused by the opportunity to be recognised professionally and became registered in 1979/1980. I could see this would improve my chances of learning and career progression.
In what ways has registration benefitted your career?
With two fellowships, Chartered status and a Doctorate, I have benefitted by continuous employment as I am recognised for my knowledge, built over the years and coupled with practical experience.
How does your employer benefit from your professional registration?
The Association benefits from the professional status I convey, because members and overseas partners understand the experience that I can bring (backed by sound engineering principles) to the various situations we encounter, which is demonstrated by having achieved respected standing in engineering.
Is there any advice you would pass on to someone considering professional registration?
I would recommend professional registration because it demonstrates your commitment to everyone. It is a wonderful advertisement for technology and engineering, as we strive to build up the public's perception of the profession.
Where do you see yourself in your career in five years' time or what are your future ambitions?
I see an exciting period continuing, with automation and robotics as key elements of the move deeper into new areas of technology. Some of the projects are simply outstanding and will shape future generations – from the way we bring food to the table, to how we transport produce, how we look after emissions and noise and how we automate the ranges of machinery that will enhance a sustainable environment. I look forward to younger people becoming excited by and involved in this super industry.
Do you participate in any other career-related activities, such as mentoring, volunteering or membership of other engineering groups?
I mentor people towards Chartered and Incorporated registration and find this most rewarding. I am a member of the Institution of Agricultural Engineers (IAgrE) membership committee, as well as a Director of the Douglas Bomford Trust where analysis of PhD projects and student initiatives are evaluated and rewarded accordingly.
Outside work, is there any activity you enjoy doing in your spare time that relates to engineering?
Luckily, I enjoy travel and have an avid interest in railways as well as heritage buildings and cities.