Charchita Misra CEng MIET
Published: 04/09/2019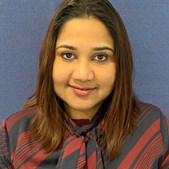 Education and qualifications:
MBA, Executive MBA, Distinction
MSc, Power Distribution Engineering, Distinction
BEng (Hons), Electrical and Electronic Engineering
Job title:
Technical Operations Manager
Employer:
GlaxoSmithKline (GSK)
What inspired you to become an engineer or pointed you towards an engineering career?
As a child, I was inspired by my grandfather's story of how he fled from his humble village in rural India to pursue his passion, established himself as the first Chief Engineer for the state government and led major electrical generation and transmission projects for the state. This combined with my interest in Maths and Science at school pointed me towards electrical engineering as a career.
Please describe your role or position within your workplace.
I am Technical Operations Manager for six sites in GSK's Global Real Estate & Facilities business unit and I ensure that infrastructure assets are compliant with national regulations and have the appropriate maintenance strategy. I also support project delivery and develop the capital investment plan based on asset condition assessments.
Can you describe a typical working day?
I split my week by rotating across different sites. A typical day would be conducting a site walk as a response to an operational issue or improvement opportunity, conducting audits on third party service providers, attending project meetings, reviewing designs and providing approval. I also facilitate several workshops to implement real estate infrastructure strategies, such as standard gap analysis and data optimisation.
Are there any challenges or unusual aspects to your role?
I do not have any direct reports and need people from various departments to deploy any improvement opportunities. Hence, I need to use my influencing skills to get teams aligned with my initiatives. Also, communication is a key part of my role as I act as a liaison with different service providers to promote collaboration.
What do you find most enjoyable about your job?
I am a people person and I enjoy the interactions with different teams, companies and stakeholders that happen on a day-to-day basis. I also enjoy the technical challenges that the job involves such as reviewing designs and providing advice on standards.
Is there a great professional achievement or high-profile accomplishment that you would like to tell us about?
I am particularly proud of my first £1 million project that I led from inception to completion. We installed an 800kVA rotary Uninterruptible Power Supply (UPS) for a key manufacturing facility to support production through voltage disturbances. This project was completed on time and on budget and is being implemented across other global sites as a success.
What contributed to your decision to become professionally registered?
Professional registration gives you credibility as your capabilities are peer assessed and not specific to one industry or company. This drove me towards getting professionally registered. Additionally, the graduate program in my firm was well structured and enabled me to achieve the criteria required as I progressed my career within the company.
In what ways has registration benefitted your career?
Registration has directly supported my career as it is a key requirement for being a "duty holder" on site. It has also enabled me to reach out to a wider network and attend events relevant to my interest and activities.
How does your employer benefit from your professional registration?
Registration provides my employer with the assurance of my competency. This is necessary for me to take responsibility for the high hazard systems that have business and health and safety impact.
Is there any advice you would pass on to someone considering professional registration?
Get a mentor and maintain a professional development plan which should be reviewed regularly to ensure that your projects and activities are aligned with the requirements of registration.
Where do you see yourself in your career in five years' time or what are your future ambitions?
I would like to be in a role that involves greater accountabilities and stronger leadership. I would also like to get broader exposure and hope to be integrating technical skills and business skills to make a direct impact to the firm.
Do you participate in any other career-related activities, such as mentoring, volunteering or membership of other engineering groups?
Yes, I am a mentor within my company for current graduate programme students. I also act as the Secretary for a Women in Engineering (WIE) chapter of the Institute of Electrical and Electronics Engineers (IEEE) and have been a Science, Technology, Engineering and Mathematics (STEM) Ambassador in the past.
Outside work, is there any activity you enjoy doing in your spare time that relates to engineering?
I tutor GCSE and A level students in Maths and Science as I enjoy teaching.