Carmen Muriana Cobo MEng MSc MAGIPic CEng MICE
Published: 28/11/2019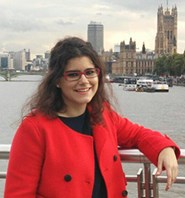 Education and qualifications:
MEng Civil Engineering (Hons)
MSc Environmental Science
Masters in Integrated Project Management of Engineering and Construction (MAGIPic)
Certified Associate in Project Management (CAPM®)
Institute of Asset Management Certificate (IAM)
Job title:
Surface and Highway Structures Engineer 
Employer:
Transport for London (TfL)
What inspired you to become an engineer or pointed you towards an engineering career?
I was inspired to become an engineer by Tower Bridge in London. I am from Jaén, a little city in the south of Spain. I didn't know anything about engineering, but this bridge caught my attention and I started to become curious about civil engineering. No one in my family is an engineer so when I said that I wanted to become an engineer, it was a surprise to them.
What I never could have imagined is that I would end up working for TfL in the Highway Structures team and working on a project to design a new river crossing for the River Thames between Rotherhithe and Canary Wharf. This project is one of the biggest planned investments detailed in the Mayor of London's manifesto. My main responsibility is to deliver safe, compliant, efficient, economic and assured engineering solutions in a timely manner.
Looking back, I think that I was not aware of the implications of being an engineer, but my curiosity and determination were greater than the challenge and the fear. To be honest, I think that it was the best decision that I've ever made.
Please describe your role or position within your workplace.
I am a Surface and Highways Structures Engineer. I provide technical support to TfL's Surface Operations, Asset Investment and Project Management teams. This includes providing advice on design, construction, operation, inspection, maintenance and assessment of assets. I ensure health and safety is considered as part of design and construction planning, support project assurance and provide technical advice.
Can you describe a typical working day?
What I enjoy most about my job is that each day is different. I currently spend most of my time working on the Rotherhithe to Canary Wharf River Crossing project although I have a number of other projects too. I am responsible for technical assurance and I provide advice for the concept design, environmental considerations, Building Information Modelling (BIM), project management, system engineering, construction methodology and the potential operation of a moveable bridge (involving both the traffic under and over it). I also assist with the co-ordination of a multi-disciplinary team.
As I said before, each day is different. Some days are full of meetings or technical seminars where I interact with many stakeholders and other days, I am alone reviewing or writing technical documents, such as defining the project requirements for the Lambeth Bridge scheme
I also mentor students or graduates who come to TfL to do placements and I am going to take this opportunity to mention that, if you are a student or graduate and you would like to have work experience at TfL, you can contact us at TfLEngPlacements@tfl.gov.uk
Are there any particular challenges or unusual aspects to your role?
The challenge of my role is that you need to be up-to-date and fully aware of current standards, regulations and best practice. We also keep an eye on the latest technologies and engineering advances to help us ensure we are getting best value for money in our designs. Working for TfL, the integrated body responsible for the capital's transport system, we have different responsibilities and accountabilities as we work with public money and every penny counts. This environment makes my role exciting, while at the same time challenging, as I have to re-think and challenge the traditional assumptions and answers to create more effective and innovative solutions.
I personally think that the challenge (and beauty) of being an engineer is that if you want to be good and competitive in your field, you need to be continuously working and studying to deliver the best service. Having a curious mindset helps you to develop a proactive attitude and behaviours that motivate you to deliver the best service possible, and this attitude is what makes a big difference and allows you to create the best value-for-money solutions.
 
What do you find most enjoyable about your job?
The interactions of the different disciplines/professionals and being part of the decision-making process is the most enjoyable part of my job. Exchanging opinions with different experts, stakeholders and managers allows me to learn new things that I would have never learned from books! I really like the fact that I am always learning and also that part of my responsibility is to be up-to-date with the latest advances in engineering.
Is there a great professional achievement or high-profile accomplishment that you would like to tell us about?
Probably my greatest professional achievement to date is the fact that I finished my MSc Environmental Sciences at the same time that I was studying for a Masters in Project Management, while working for an academic consultancy.
All these opportunities came up at the same time and I couldn´t afford to miss any of them. Most people advised me to select one, but I knew that I could handle them all at the same time and get out of my comfort zone. I learned to believe in myself – not only is it a great professional achievement but also a personal achievement too. It was a very busy year, but the effort has paid off and the experience gave me the opportunity to develop skills and experiences that I would have never acquired if I'd stayed in my comfort zone.
What contributed to your decision to become professionally registered?
I am registered in Spain and for me registration in the UK was the perfect opportunity to analyse what I had done so far, what I've achieved and what I want to do next. Preparing for professional registration was very beneficial for me. I was very lucky because I was surrounded by fantastic professionals who became my mentors (and who gave me priceless support). As a result, I have become a more flexible and more resourceful engineer with a clear idea of what I want to achieve.
In what ways has registration benefitted your career?
Registration has given me more opportunity to explore other engineering fields, through meeting more amazing and wise engineers. I've raised my standards, I've acquired more self-knowledge and I've developed various soft skills. It has also opened up new professional and networking opportunities. TfL has an ideal environment to obtain professional registration because the organisation supports you economically, and you're surrounded by highly skilled engineers that you can lean on during the process. In my case, I felt very supported by my senior managers when I decided to work towards professional registration. I am very grateful for the support my mentors and colleagues in the profession have given me. 
How does your employer benefit from your professional registration?
TfL has benefited from my professional registration because it ensures that I have a level of skill, knowledge and experience which is nationally and internationally recognised. Professional registration also means a commitment to a professional Code of Conduct and a Continuing Professional Development (CPD) plan.
This CPD has allowed me to build lasting professional relationships. My managers are members of the Association of Directors of Environment, Economy, Planning and Transport (ADEPT) and the UK Roads Liaison Group (UKRLG) and circulate drafts of different highways standards for review and comment. This keeps me up to date with the latest advances in my field and it helps raise my standards too, boosting my credibility and connections within the industry.
I have also been able to inspire the next generation of engineers within TfL through summer placements, apprenticeships and through the Engineering Accreditation Review Network (EARN) group.
Is there any advice you would pass on to someone considering professional registration?
Just do it. The professional registration gives you not only professional but also personal benefits. Professional registration is recognised worldwide and underlines your knowledge, understanding and competence. It helps you to do an analysis of your strengths and weaknesses, provides networking opportunities and improves your personal brand. It also protects the quality of the sector, raises standards and guarantees the quality of the service.
Where do you see yourself in your career in five years' time or what are your future ambitions?
In five years' time, I would like to be in a more strategic position. I hope to have developed a personal brand with deep expertise in what I do and excellent communication and managerial skills.
Do you participate in any other career-related activities, such as mentoring, volunteering or membership of other engineering groups?
As well as EARN, mentioned above, I'm also a Science, Technology Engineering and Mathematics (STEM) Ambassador, and I help to manage graduates, apprentices and student placements within my team.
Outside work, is there any activity you enjoy doing in your spare time that relates to engineering?
In my spare time, I support colleagues by mentoring and providing professional advice. I enjoy learning new things related to engineering, so I attend seminars and training courses. At the moment, I am studying for an Asset Investment Diploma exam and working towards Chartered Environmentalist status, as I think that it is going to be essential for engineering in the near future.