Big Bang Fair calls on STEM community to inspire the next generation of engineers
Published: 17/02/2017
The Big Bang Fair is calling on engineering firms, education institutions and activity providers to play their part in the 2017 Fair. Registration is still open for the event, which will take place at the NEC in Birmingham from 15 to 18 March. 
Celebrating its ninth year in 2017, The Big Bang UK Young Scientists and Engineers Fair brings together the STEM community in a collective effort to inspire over 70,000 young people, their teachers and parents across four days each March. Around 200 organisations from across industry, education and the third sector work together to bring alive science, technology, engineering and maths and show young people (aged seven to 19) the exciting and rewarding opportunities out there for those with the right experience and qualifications. In 2016, 98% of activity providers at The Big Bang Fair stated they would like to return in 2017.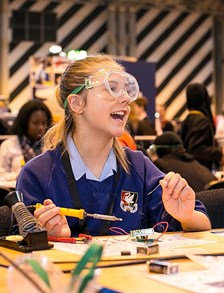 There are many ways to get involved, from interactive stands and workshops to theatre shows and busking. Big Bang organisers have options and packages to suit all forms of science and engineering communication, including funding for sole traders. Individuals and organisations interested in playing a part should go to www.thebigbangfair.co.uk/activities to find out more or express an interest.
Kevin Piri, Director for UK and International Operations, Inspire to Aspire Events, which ran an interactive stand at the 2016 Big Bang Fair, said: "The Big Bang Fair provided us with a fantastic opportunity to give students an insight into health and medicine as a possible career path. Working alongside many other STEM companies The Big Bang Fair gave us a prestigious opportunity to showcase our school-based events to teachers all over the UK. The Fair also helped us reach out to and engage a mass number of pupils in one go and fulfil our self-set obligation of widening participation."
More information is available at www.thebigbangfair.co.uk