Organisations open their doors for IET Engineering Open House Day
Published: 16/09/2016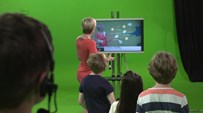 Venues across the UK took part in the IET Engineering Open House Day in July, offering young people and their parents the opportunity to go behind the scenes at leading organisations to discover how creative and varied engineering can be.
The organisations to take part in hosting an event on 28 July 2016 were Aberdeen Science Centre in partnership with Shell, Arqiva, Atkins, the BBC, Bosch Group, BRE, Brunel Museum, BT Labs, Caterpillar, Crossrail, Curiscope, Engineers Without Borders UK, the Institution of Engineering and Technology (IET), ITN Productions, the Museum of Science and Industry, National Railway Museum, National Theatre, Rutherford Appleton Laboratory and Diamond Light Source,  Sellafield, Tower Bridge Exhibition, University of Huddersfield, the V&A Museum and The Wellcome Trust. In total, these venues attracted around 1,600 young people and their parents.
The events included talks, tours, workshops and practical activities aimed at inspiring future engineers. The IET hosted its own event at IET London: Savoy Place, giving young people the chance to have a go at hands-on STEM activities related to the BBC micro:bit and learn more about coding. Different zones were set up for visitors to explore, including an area hosted by Curiscope where visitors could find out more about how virtual reality works.
Engineers Without Borders UK hosted two events that showed visitors how engineering is capable of addressing global challenges such as water and energy provision to regions that lack access to basic services. Madan Srinivasan, who went along to one of the events with his son, said: "As a parent of a 14-year-old, I feel it is so important for him to reflect on how he can make the world a better place to live in. As an engineer he has the perfect opportunity to do it.
The Engineering Open House Day was launched in 2015 following research commissioned by the IET, which showed that 54% of children said they didn't know anything about careers in engineering. In addition, girls are twice as likely as boys to say that they are not interested in finding out about careers in engineering. Only 9% of the UK engineering workforce is female and the purpose of Engineering Open House Day is to inspire more young people to discover what engineering involves and dispel some of the perceptions that people may have.
IET President, Naomi Climer, said: "It is crucial that parents support their children, particularly girls, if they show an interest in science, technology, engineering and maths. Some parents have told us they do not feel equipped with enough knowledge and this plays a part in why kids are not encouraged at home about science and engineering jobs. We have to change that."
Engineering Open House Day is part of the IET's Engineer a Better World campaign. More photos from the day are available on social media via #IETOpenHouse. Organisations interested in getting involved in a future event can contact the Institution's communications team at communications@theiet.org.