International trade - virtual events announced
Published: 26/10/2020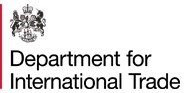 The Department for International Trade (DIT) in partnership with Newable are hosting a selection of virtual events as part of their Exporting is Great programme.
Aimed at small and medium-sized enterprises (SMEs) the events will feature expert insight on the opportunities for exporting, which engineering businesses may be interested in attending.
UAE Opportunities in Infrastructure Construction Overview 4 November 2020
This interactive webinar will provide an overview of the latest UAE construction and infrastructure opportunities. Discover emerging trends, upcoming projects, the impact of COVID-19 on the sector, legal considerations and more from market experts.
Winning and Delivering Business Internationally 24 and 25 November, or 2 and 3 December
For businesses based in a London borough, this two-day virtual event is an opportunity to hear expert insight on the legal, financial and logistical obstacles associated with exporting. It will cover how to mitigate these risks and trade safely overseas. Learn how to develop your business model and connect with other London businesses developing their exports.
The DIT website offers further advice and information about how exporting could benefit your business.