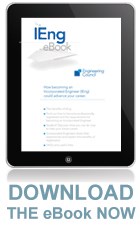 Becoming an Incorporated Engineer (IEng) could help advance your career!
Click here to download your free IEng eBook, the definitive guide to advancing your career in engineering by becoming an Incorporated Engineer. 
By downloading your copy now you will find out how IEng status can:
Give you an internationally recognised title
Demonstrate that you are a professional in your field
Enhance your employability
Provide a valued badge of competence
Help you stand out from the crowd
Advice for iPhone, iPad and iPod touch users
You will be able to view the eBook in Safari, your main browser. If you would like to save the eBook onto your device you will need to have installed iBooks, which can be downloaded for free from the App Store. To save the eBook select 'Open in iBooks' when the eBook opens in Safari – this will automatically save it to your library.
Advice for users of other mobile devices
To access the eBook you will need to have Adobe Reader for Mobile installed on your device. Click here to download Adobe Reader free of charge.
Print this page